Replace a Seal Save a $1 million plastics project
Featured Product from MECO Shaft Seals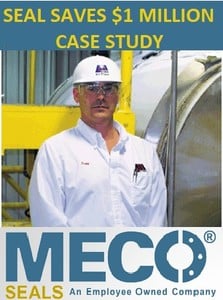 CASE STUDY: Good things come in small packages, with a classic example to be found at additive supplier Amfine. Running into serious problems with a dryer used to prepare nucleating agents, the company was able to replace a seal on a vacuum dryer and save a $1 million project.
Seals and other replacement parts often do not get much thought from the plastics community until it's rime to refurbish or conduct scheduled maintenance on a piece of equipment.
There are times, though, when a bad seal can bring an entire project to a halt, as additives and PVC stabilizer supplier Amfine Chemical Corp. (Hopkinsville, KY) discovered when it was ramping up a line to produce a nucleating agent that also serves as a clarifying agent for semicrystalline polymers. The process required removing a solvent, accurate temperature control and a deep vacuum.