Custom Shaft Seals for Plastic Process Machinery
Featured Product from MECO Shaft Seals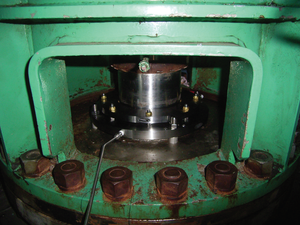 MECO seals offer plastics manufacturers effective, reliable shaft sealing for a wide variety of machinery handling difficult-to-seal products.
Reactors & Top-Entry Agitators
Vacuum Dryers
Extruders - Twin-shaft & Single-shaft
Feeders, Conveyors & Elevators
Sigma Arm Mixers
Ribbon Blenders, Paddle Mixers & Plow Blenders
Airlocks
MECO seals are designed to tolerate:
broad operating temperatures (-60? to +550?F)
service up to 1,000 sfm
full vacuum to +3 bar
1/4" and more of diametric runout
thrust motion
thermal growth & shrinkage
repeated pressure/vacuum cycles
abrasive products
exotic chemistry
MECO seals are installed as factory equipment on new, Coperion Werner & Pfleiderer ZSK extruders. MECO extruder seals eliminate the powder leakage typical of stuffing boxes, and the molten polymer leakage of viscoseals.
MECO provides effective seals for a variety of extruders compounding resins with abrasive fillers such as talc, TiO2, glass fiber and wood. They eliminate product contamination from packing residue, and permit longer at-grade production runs than conventional seals. MECO seals can be designed elastomer-free, to eliminate materials compatibility problems caused by hydrocarbons and other aggressive chemicals.
MECO seals offer:
compatibility with most worn or damaged shafts
longer service life, predictable maintenance cycles
no product contamination from packing or purge gas
lower gas/air consumption (less than 1/4 cfm).
effective vacuum containment.
The patented MECO-DR mechanical drive system can be incorporated to permit the axial shaft motion typical of pressure/vacuum cycles and thermal growth. Such motion is common both in vacuum and pressurized dryers.
MECO dryer seals contain product and keep aromatic hydrocarbon measurements within acceptable concentrations. The seals frequently reduce process times in vacuum systems by improving vacuum efficiency & product consistency. MECO seals a variety of support machinery, including screw conveyors and feeders, rotary airlocks, bucket elevators and drag chain conveyors. All offer high runout tolerance and positive, vacuum-tight shaft sealing. Some models can also be designed for European ATEX compliance.
Fully-split MECO seals and rebuild parts permit simple retrofits to existing equipment, usually with no need for modification other than removal of the original seal.
MECO seals are custom-engineered to each application. Our applications personnel will work with you to specify the best possible solution to your needs.
If you're a polyolefin or other primary resin manufacturer, a catalyst maker, a custom compounder or colorizer, or a manufacturer of specialty polymers, MECO has a seal for your machinery.