Evolution: High Throughput Wet Processing System
Product Announcement from MEI, LLC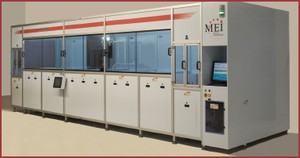 The MEI Evolution series wet processing systems are configurable, fully automated, modular, batch immersion systems made for high throughput at a low cost. They are designed for dry in and dry out batch wafer processing of multiple lots of wafers from 100mm to 300mm. Custom configurations combine SECS/GEM interface capabilities, multi step processing, cascade or QDR rinsing with optional chemical injections, maringoni drying and linear robotic transfer capabilities into a system that is tailored for your specific process needs.
MEI Evolution systems are suitable for a wide variety of cleaning, etching and stripping applications, including all substrate types used in solar cell, IC, Medical and MEMS device manufacturing as well as parts cleaning applications. Configurability, up-time, yield, maintainability and throughput are the hallmarks of an MEI wet processing system.
Dry to Dry High Throughput, Process Multiple Lots and Recipes Simultaneously
For production lines with many process steps and complex process sequences the MEI Evolution series of wet processing systems is a very space and cost-effective solution. The MEI Evolution provides higher throughput, because it is able to process multiple lots and multiple recipes simultaneously, using the sophisticated process controls of MEI's proprietary IDX Automation Software. The Evolution is ideal for processes with hot phosphoric baths and other "lidded" process tanks, as it allows for gravity spiking of multiple chemistries, and provides a fully enclosed environment with HEPA filtration, which can result in better isolation of fumes, higher yield and lower facility exhaust requirements.
Designed to be SEMI-S2 compliant
MEI Solar Evolution- our Solar Wafer processing model:
High throughput with multiple robots
200 wafer carrier cassettes
1200 wafers per hour
Extra wide tanks for multiple carriers
Input and output scales for wafer thinning metrics
Six inputs and outputs with automated staging
---