Industrial & Commercial Equipment Rigging & Moving
Product Announcement from MEI, LLC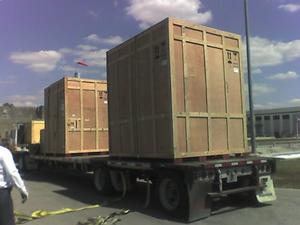 Professional Industrial and Equipment Rigging Services
MEI Rigging & Crating - a division of MEI, LLC - offers top quality rigging and millwright services. Our riggers handle all kinds of light and heavy machine rigging, removals and equipment installations. We specialize in moving heavy machinery and sensitive electronic equipment. Whether moving a single piece of equipment or relocating an entire clean room, MEI has the equipment, experience and personnel to handle your job. Utilizing our highly trained crews, we deliver high quality service every day, and are proud of our excellent reputation. We do what it takes to get your job done safely, on time and on budget. We also offer complete Factory Relocation services
Industrial and Commercial Rigging
Presses
Lathes
Milling and industrial equipment
Packaging and production lines
Skidding
Moving
Shipping coordination
Extensive Experience in Industrial and Heavy Moving
The experienced, professional riggers at MEI Rigging & Crating can:
Hoist a 20,000-pound CNC milling machine out of a hole in the roof
Move a delicate piece of clean room equipment across a fab, or across the world
Install a 38,000-pound pharmaceutical sterilizer
Helicopter a new HVAC unit on top of a high-rise building
Relocate an MRI scanner from a hospital to its new home in a satellite imaging center

Oregon, Texas Utah, and Nationwide
For the right job, MEI riggers will go anywhere in America. We are positioned for quick, cost effective response in three locations:
Oregon - serving Portland and southwest Washington down to Eugene and from Newport to Bend from our base in Albany
Texas - serving Dallas, Ft. Worth, Austin, Houston and San Antonio from our base in Plano
Utah - serving the greater Salt Lake City area from our base in Lehi

Sensitive Equipment and Clean room Moves
Over the past 20 years, MEI riggers have developed expertise in moving sensitive equipment in clean room environments. We have moved equipment in the semiconductor, photovoltaic, medical and nanotechnology industries. Our inventory of specialized equipment meets clean-room and sensitive equipment requirements. Our personnel are trained in clean room services and protocols, including safety, hazards, ergonomics, and tool and material cleanliness.
Total Moving Service Coordination
Rigging can be integrated with MEI's end-to-end services, which includes removal, crating, shipping coordination, millwright, reassembly and installation. MEI has the experience and support services capable of providing a one-stop solution for coordinating your equipment moving needs, whether your project involves just a local equipment move, or requires rigging, removal, crating, transportation, shipping, unpacking and re-installation. In addition to rigging, hoisting, moving and crating services, we provide air, land, and ocean freight coordination; consolidation, loading, and forwarding services; storage facilitation; export documentation and shipping; ordering, blocking, and bracing of ocean containers; Dangerous Goods Declarations for IATA, ICAO, IMDG, and US DOT.
Uncompromising Customer Focus
Our stellar performance record, coupled with our professionalism, attention to detail and experience, brings our customers back again and again for all their rigging and moving needs.
---