Drum Chem: MEI Bulk Chemical Delivery System
Product Announcement from MEI, LLC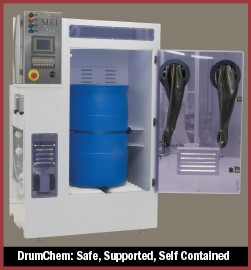 MEI DrumChem Delivery Systems
MEI has a complete line of wet process systems which are designed to be used with our chemical delivery systems, and both wet process systems and integrated chemical delivery systems can be controlled with a common controller using MEI's IDX Automation Software.
Tailored
MEI will create chemical delivery systems to fit your chemical process needs and production floor design via our partnership design process.
Optional chemical filtration and recirculation
Pump options to fit your existing spares stock
Multiple system "kiosk" remote control interface provides E-Stop capabilities as well as status notification.
Pressurized systems with programmable mixture control
Production Ready
Quality, ergonomics and safety are designed into every system.
Easy to navigate touch screen controls
Graphical touch screen controls on computers running Microsoft Windows XP® and MEI IDX Automation software
Space efficient; MEI's space saving cabinets fit easily into tight work spaces
Valve manifold boxes are available from 3-12 sticks to maximize delivery capability
Control systems seamlessly integrate with all MEI Wet Process Systems and all other vendor's wet processing systems utilizing dry contact ready/request signals
Designed for Safety
Conforms to SEMI-S2 standard
MEI is a UL certified panel manufacturer
Internal spill and leak detection for all chemical handling compartments (facilities/pumps and drums)
Local and remote EMO shut down with low voltage circuit
Exhaust differential pressure monitoring
Cabinet acts as spill containment with minimum 125% capacity
Visual alarm light tower with integrated audible alarm
Dispense head seal conformation detection
Electronics housed in separate N2 purged compartment
Ergonomic height glove ports are standard to protect personnel during disconnection of drums
Ease of use: drum scale with liquid level detection and auto switchover for 2-barrel systems
Choice of materials, FM4910 (Halar, CPVC, PVDF) or Polypropylene or Stainless Steel.
Maintenance Friendly
Touch screen control provides capability to control individual valves
Easily removable access panels provide front and side access to internal components
Easy to access pumps and valves allow for excellent MTTR, improving uptime
Fork truck lifting points and casters with leveling feet for ease of installation
Reliable
Field proven designs and safety features
Highest quality plumbing components
All metal components are either chemical resistance epoxy powder coated or anodized for longevity
Nitrogen purged electronics compartments
Load cells utilized for drum level detection provide for a simple robust design
Supported
---