MRI Cold Storage Service
Service Detail from MEI, LLC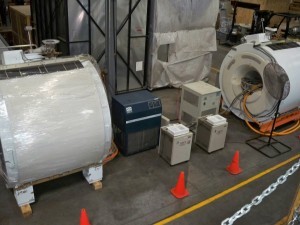 In addition to our Medical MRI Moving and Transport Services, we provide MRI Cold Storage. We ensure your MRI coldhead stays cold, keeping your equipment operating, with lower shipping costs and less downtime. In MEI's MRI Cold Storage, magnets are monitored daily, checking for helium levels, compressor operation, and magnet shield temperatures. We have chillers and compressors that are capable of supporting multiple MRI Units in Cold Storage. We will provide regular reports on the status of your equipment, and take excellent care of your assets. MEI - Built on Commitment…
MEI 's teams are experience MRI equipment movers, we can remove unload, store and deliver any MRI system. Contact us for a free quote.
Full Service MRI moving support: MEI can provide MRI Moving and Cold Storage.
MEI Rigging and Crating can remove an MRI from a medical facility, store it in cold storage at our specially equipped Plano warehouse near Dallas Texas. We will monitor Helium levels and keep the chiller running until you are ready to install the MRI at its next location. We can handle multiple MRI units in Cold Storage at the same time .
Save Money on Transportation! MEI's MRI Cold Storage in Dallas will reduce your shipping costs while keeping your magnets at top performance.
Cryogen transfills can be performed at our facility (by?) and when you're ready to re-install the magnet, we will load it properly for transportation, and will arrange for unloading at the new site.
Choose MEI for cost effective MRI Moving, Transport and Cold Storage of MRI Magnets.
---