Mobile Chassis Lubrication
Product Announcement from MFP Automation Engineering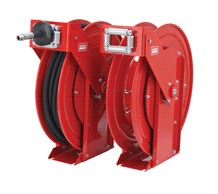 The Mobile Chassis Lubrication can eliminate the need for costly daily maintenance on the friction points in your mobile equipment. Imagine the cost and time savings if the inspection and lubrication processes were automatically taken care of. On average, this could be a savings of over thirty minutes of maintenance per vehicle each day. Here at MFP, we'll work with you to develop a system to keep your service vehicles operating at peak performance. We use Lincoln Quicklube pumps to ensure your friction points are receiving adequate lubrication.
MFP is committed to providing you with the best techniques for lubrication and performance. We even offer automated lubrication options that actually eliminate the need for repetitive manual spot lubrication. MFP will ensure that you have the proper lubrication to keep your operation running smoothly and efficiently. Your parts will be subject to less wear and you will need replacement parts less frequently.
MFP has the industrial automation lubrication products you need to eliminate costly manual applications. Our automation lubrication products apply spot treatments along the friction points in your assembly or production facility. The reduction in man-hours will be a tremendous asset to your business.
---