Pyroid® Material Enables Holy Grail of Memory
Service Detail from MINTEQ® International Inc, Pyrogenics Group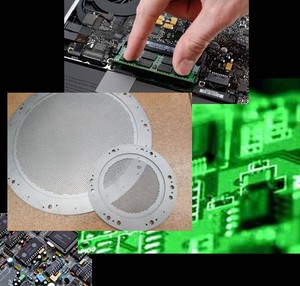 MRAM (Magnetoresistive Random Access Memory) is a next-generation memory technology, based on electron spin rather than charge and is often referred to as the "holy-grail of memory". MRAM is fast, high-density and non-volatile and can replace all kinds of memories used today in a single chip.
MRAM promises the density of DRAM with the speed of SRAM and data integrity of Flash - together resulting into instant on, non volatile computers and tiny, super fast and reliable portable devices. It promises a high-capacity next-generation memory and battery-backed up RAM as well as supplying improved non-volatile memory solutions for high-end mobile products.
Targeted MRAM devices include:
Aerospace avionics and military systems
Ditgital cameras
Notebooks
Smart cards
Mobile telephones
Cellular base stations
Personal computers
Battery-Backed SRAM replacement
Datalogging specialty memories (black box solutions)
Media players
Book readers
Pyroid® Pyrolytic Graphite is an enabling material in plasma etching for magnetic metal layers patterning, one of the most critical processes in MRAM production.
Pyroid® Pyrolytic Graphite can be easily machined and the material can be routinely manufactured into complicated parts with close tolerances, and supplied with a high level of surface finish, flatness or a defined surface roughness.
Pyrolytic Graphite exhibits the lowest erosion rate of any known material.
Customer Benefits:
Minimizing erosion provides
Longer tooling life
More precise beam focus
Results:
Increased productivity
Lower maintenance
and saving costs from production down time.
Using Pyroid® Pyrolytic Graphite ensures uniform heat distribution resulting in superior quality and increased productivity for current and next generation semiconductor and photovoltaic manufacturing processes.
PRYOGENICS ACCREDITATION CREDENTIALS
Pyrogenics is accredited in accordance with the latest edition of AS9100D, an accepted international standard containing requirements for establishing and maintaining a quality management system for the aerospace industry. AS9100D includes the requirements of ISO 9001: 2015 plus additional requirements for a quality management system for the aerospace industry.
About Minteq
Minteq, the premier supplier of engineered refractory lining systems, manufactures monolithic refractories for the iron, steel, non-ferrous metals, minerals processing and glass markets. Combined with our application systems and measurement innovations, Minteq products and systems help manufacturers increase productivity and lower overall costs. Minteq offers comprehensive, customized, and integrated refractory systems that include superior monolithic products, proprietary application equipment, patented laser measurement devices, and the extensive experience and expertise of our service teams.
Minteq refractory materials, systems and technologies lead the industry because of our significant commitment to research and development. The resulting innovations are the keys to our success and to our customers' success. We provide turnkey solutions to help you increase productivity enhance yields, reduce downtime, and lower overall costs.
Minteq has the expertise to design, install and maintain a customized solution for your unique challenge. We welcome the opportunity to consult with you and uncover methods for improving your productivity, creating value, and lowering overall costs to enhance your competitiveness in the global marketplace