FIREX™ Fire Protection Coating
Service Detail from MINTEQ® International Inc, Pyrogenics Group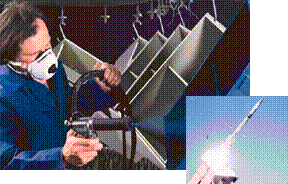 With over 30 years of applications experience, Impreglon Inc. is the preferred applications supplier of MINTEQ's FIREX™ intumescence coatings.
With our FIREX™ experience, we can meet even the most exacting military standards to ensure these coatings provide their proven thermal protection performance.
Our 65,000 sq. ft. state-of-the-art facility and experienced staff, can apply coatings by manual spray or with precision robotic equipment on virtually any size piece.
FIREX™ coatings have been utilized in numerous applications requiring fire and thermal protection. Those applications include ships, tanks, military vehicles, shelters, aircraft, and space vehicles and are especially protective in a jet fuel environment. Now they are available for chemical, oil and gas, and other applications
Impreglon Inc. has a rich history of working closely with MINTEQ in developing existing and new fire protection coating applications. Our most recent FIREX™ experience includes applying the coating to hundreds of missile launcher systems for the US Navy.
Impreglon Inc. stands ready to support FIREX™ customers, whether it's for quick turnaround sample test parts, or large scale production runs.
PRYOGENICS ACCREDITATION CREDENTIALS
Pyrogenics is accredited in accordance with the latest edition of AS9100D, an accepted international standard containing requirements for establishing and maintaining a quality management system for the aerospace industry. AS9100D includes the requirements of ISO 9001: 2015 plus additional requirements for a quality management system for the aerospace industry.
About Minteq
Minteq, the premier supplier of engineered refractory lining systems, manufactures monolithic refractories for the iron, steel, non-ferrous metals, minerals processing and glass markets. Combined with our application systems and measurement innovations, Minteq products and systems help manufacturers increase productivity and lower overall costs. Minteq offers comprehensive, customized, and integrated refractory systems that include superior monolithic products, proprietary application equipment, patented laser measurement devices, and the extensive experience and expertise of our service teams.
Minteq refractory materials, systems and technologies lead the industry because of our significant commitment to research and development. The resulting innovations are the keys to our success and to our customers' success. We provide turnkey solutions to help you increase productivity enhance yields, reduce downtime, and lower overall costs.
Minteq has the expertise to design, install and maintain a customized solution for your unique challenge. We welcome the opportunity to consult with you and uncover methods for improving your productivity, creating value, and lowering overall costs to enhance your competitiveness in the global marketplace