Soldering Coatings for Graphite Heat Spreaders
Featured Product from MINTEQ® International Inc, Pyrogenics Group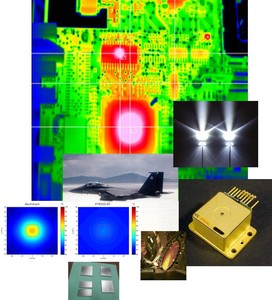 Thermal engineers can now solder directly to Pyroid® HT Pyrolytic Graphite heat spreaders. Examples of electronic grade coatings available include:
Electroless and electroplated Ni, NiCr, Cu
Ti/NiCr/Au
Invar
Selective masking available
Thermal Management Material Solution for State-of the art Electronics.

We would like to share this video about our Thermal Management Material Solution for State-of the art Electronics. Feel free to share with anyone that may have interest in your company. We also offer free software modeling tools that compares our material against other materials for design optimization analysis.
Webinar Intro
With heat issues limiting power device performance and growth, we have developed a derivative of our material branded as Pyroid® HT Pyrolytic Graphite material that offers heat spreaders and sink thermal conductivity up to 4 times (1700 W/m°K) that of copper at only a quarter of the weight. This "diamond like" conduction without the "diamond" price tag makes our material ideal for pulling heat out normal to a heat producing device as well as spreading it away. This dual action eliminates the need for special "hot spot" thermal vias.
With our ability to provide very thin metallized coatings, we offer the opportunity for direct device solder attachment which provides the maximum thermal transfer.
Heat is the enemy of electronic circuits and devices. It limits performance and leads to premature failure. We are introducing a new weapon in the ongoing battle against thermal problems. Discover how the heat spreading ability of a new material solution - Pyroid® HT®... cuts size, weight, and cost from electronics packaging.
Discover a thermal management material solution that provides "diamond like" thermal conduction without the "diamond" price
Understand why Pyroid® HT material solutions are ideal for high-volume production and provide economic value at the device assembly level
Learn how to optimize heat sinks and spreaders with the Pyroid® HT software modeling tool
PRYOGENICS ACCREDITATION CREDENTIALS
Pyrogenics is accredited in accordance with the latest edition of AS9100D, an accepted international standard containing requirements for establishing and maintaining a quality management system for the aerospace industry. AS9100D includes the requirements of ISO 9001: 2015 plus additional requirements for a quality management system for the aerospace industry.
About Minteq
Minteq, the premier supplier of engineered refractory lining systems, manufactures monolithic refractories for the iron, steel, non-ferrous metals, minerals processing and glass markets. Combined with our application systems and measurement innovations, Minteq products and systems help manufacturers increase productivity and lower overall costs. Minteq offers comprehensive, customized, and integrated refractory systems that include superior monolithic products, proprietary application equipment, patented laser measurement devices, and the extensive experience and expertise of our service teams.
Minteq refractory materials, systems and technologies lead the industry because of our significant commitment to research and development. The resulting innovations are the keys to our success and to our customers' success. We provide turnkey solutions to help you increase productivity enhance yields, reduce downtime, and lower overall costs.
Minteq has the expertise to design, install and maintain a customized solution for your unique challenge. We welcome the opportunity to consult with you and uncover methods for improving your productivity, creating value, and lowering overall costs to enhance your competitiveness in the global marketplace