VPAC™ Valve Leak Detection/Quantification Systems
Product Announcement from MISTRAS NDT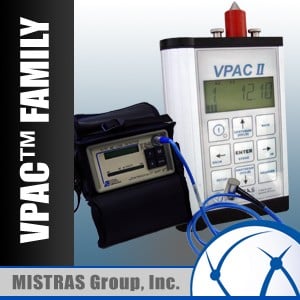 The MISTRAS VPAC™ line of portable and handheld digital AE leak detectors correctly detect through valve leaks estimating the quantity of material leaking through the valve.
In addition, the VPAC™ has been approved for use in meeting EPA's mandatory reporting rule requiring entities in the oil and gas industry to monitor and report their Greenhouse Gas Emissions
The new VPAC™II determines if valves are leaking, where they're leaking, and at what rate they're leaking.
Visit www.mistrasgroup.com/vpac for more details on theVPACII™.
VPACII™, THE HANDHELD DIGITAL ACOUSTIC EMISSION VALVE LEAK DETECTOR
Through-Valve leak detection is a difficult application. MISTRAS is working with two major oil companies spent a decade developing the right acoustic leak detection device, as well as developing and improving a new leak quantification approach. The VPAC II™ is the result.
The VPAC II™ unit is an intrinsically safe digital AE leak detector. It has been designed to replace the very successful VPAC™ and includes several improvements that are now possible with new technology advancements.
The user interface is simple and intuitive, and the unit retains all settings even when powered down. The instrument is powered by four AA Alkaline batteries which will last several weeks in typical use. Battery replacement is quick and easy, so downtime is minimized.
VPACII™ CAPABILITIES
The VPAC II™ unit contains all the features you need to determine if valves are leaking, where they're leaking, and at what rate. The features of the VPAC II™ include:
Low noise electronics to achieve the required dynamic range valve monitoring.
Storing a reading, as well as an upstream and downstream reading, for up to 100 valves at a time.
Loading a testing route complete with valve names and physical properties from VPACwin™.
Leak rate calculations right on the unit itself, assuming valve properties are uploaded.
Transferring all stored data to VPACwin™ via the Bluetooth interface
VPACII™ UNIT:
Large Custom LCD Display with backlight
Dual Frequency range selection
Accepts D9203-IS, DS241-IS or VS9203 type sensors
User replaceable AA batteries
Small rugged ergonomic package
Simple, intuitive user interface via a 3x3 large button keypad
Headset-enabled
VPACwin™ SOFTWARE:
With few simple mouse clicks, you can connect to your VPAC II™ and transfer data to and from the unit.
Automatically loads and formats all data transferred from VPAC™ into user-friendly spreadsheet.
Leak rates and total monetary loss per valve per year are calculated.
Route Management features enable the user to load a specific set of valves to be tested onto the unit.
Entire databases of valves can be created and saved for future use.
Saved results over time can be used for trending purposes.
Can save, load, print, and modify values in leak rate calculation spreadsheets.
Firmware upgrades, when available, are supported over the Bluetooth interface.
For more information on the VPAC™ and/or VPACII™, please visit www.mistrasgroup.com/vpac or call 1(609) 716-4000 today!
---