MISUMI'S LINEAR GUIDES DELIVER HIGH VALUE
Product Announcement from MISUMI USA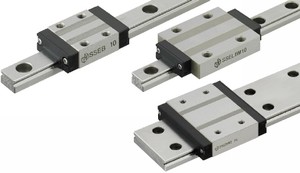 Misumi linear guides are ruggedly constructed and can be configured precisely to a variety of specifications, including length, height, load rating, and tapped hole machining.
Competitive Lead Times
6 Days (or less) for most linear guides
Most linear guides have an Express A option that brings Lead Time down to 4 Days
11 Days for linear guides with Low Temperature Black Chrome Plating
MISUMI's Linear Guide product line-up includes:
Interchangeable types in which the block and rail are sold separately and non-interchangeable types in which the block and rail are sold as a matched set.
Miniature Guides in a variety of styles designed for lighter loads. These have two rows of contacting steel balls in a 4-point raceway contact design.
Medium and Heavy Load styles designed for heavier loads, including Ultra- and Extra Super Heavy loads. These have four rows of contacting steel balls in a 2-point raceway contact design.
Low Temperature Black Chrome Plated types, featuring a 5 µm fluoropolymer layer chemically deposited as a black film on rails and blocks. This protective coating results in a durable finish that resists corrosion and is immune to cracking and flaking, even under repeated bending.
A wide range of standard and customized design options, including short blocks, long blocks, wide blocks, blocks with dowel holes, and dust-resistant versions for use where dust and machining chips pose a hazard to smooth operation.
The Linear Guides utilize steel balls rolling on precisely ground raceways, with the balls being recirculated by plastic return caps. In selecting linear guides, design engineers must consider various specifications, such as allowable load and clearance requirements.
---