MINI CONVEYORS FROM MiSUMi
Product Announcement from MISUMI USA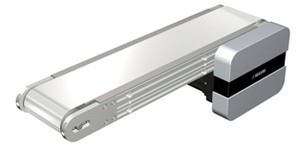 Our compact motorized conveyor systems are designed to perform precise, automated short-run conveying in machine building, as well as in testing and inspection applications. MiSUMi recently added three new styles to its family of miniature conveyors. Also, most types are available with guided belts to prevent lateral movements
MISUMI's new Miniature Conveyor models include:
CVSMA - Flat Belt Single Track Mini Conveyor (70mm) with built-in motor drive between frames. The internal motor drive, located between the frames, reduces the machine height by about half, making this model ideal for use where space is especially tight.
CVSPA - Dual Track Mini Conveyor (57mm), End Shaft Driven, featuring a rugged carbon steel sprocket and engineering plastic (Polyacetal) chain for ease of maintenance.
MISUMI's compact motorized conveyor systems are designed to perform precise, automated short-run conveying in machine building, as well as in testing and inspection applications... More Information...
In addition to the new models, MISUMI offers a wide range of space-saving single and dual-track Miniature Conveyor Systems in flat belt and timing belt styles and varying motor drives, with dimensions configured to specific user requirements. The compact ruggedly constructed units are engineered to deliver extreme accuracy and precision in short-run conveyance of parts. Also available are easy-to-attach accessories, including brackets, guide rails and support stands.
About MISUMI USA:
MISUMI helps engineers take the guess work out of design with most products offering standard manufacturing times of 6 days or less and a 99.97% on-time delivery rating on all its products. In addition, MISUMI offers a helpful web site that allows engineers to download native CAD files as well as place orders for its entire product offering.
---