MISUMI In-Stock Linear Bushing Ship Same Day*
Product Announcement from MISUMI USA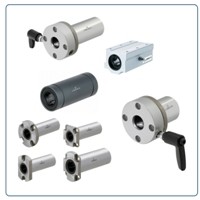 MISUMI has over 900 Linear Bushings In-Stock and Available for Same Day Shipment!*
MISUMI's Linear Bushings are used in combination with Linear Shafts to enable smooth and precise linear motion in a host of industrial machinery and plant automation system designs, and in manufacturing and processing applications across many industries.
MISUMI'S Linear Bushings line-up includes a wide variety of styles in sizes ranging from 3 mm to 50 mm in diameter. Product styles include straight, standard flanged, mini-flanged, pilot flanged, and center flanged bushings. Also available are Linear Bushings with Pillow Blocks, Linear Ball Bushings, and bushings with clamp levers to allow clamping at a desired position. All versions are configurable to users' application requirements and specifications relative to style, size, material, and lubrication options. And all are ruggedly constructed and rust protected for long service life.
MISUMI offers the largest portfolio of Linear Bushings in the marketplace today, with approximately 10,000 Linear Bushings available, and over 140,000 sold every month. More than 900 frequently ordered models are maintained in-stock locally, available for same-day* shipping. To assist in the selection of Linear Bushings, MISUMI offers a detailed selection table in the 2011 Metric Catalog, which also provides complete technical information, sizes, specifications, options, pricing and ordering information on every product model. MISUMI product information can be found at http://us.misumi-ec.com.
MISUMI Adds 8700+ More In-Stock Parts for Faster Shipping and Delivery.
Most Popular Sizes of Mechanical & Factory Automation Components Now Available for Same-Day* Shipment from our Chicago and Los Angeles Area Warehouses.
As the result of increasing demand for certain sizes and styles of many popular MISUMI mechanical and factory automation components, more than 8,700 items have been added to the local stock, bringing our total of stocked components to over 30,000 SKU's.
*Misumi Same Day Shipment Terms: For any order placed via our website, http://www.misumiusa.com, by 3:00 PM Central Standard Time, any items in stock will be shipped the same day. This program applies to all MISUMI USA products including Factory Automation Components, Press/Die, and Mold components.
About MISUMI USA:
MISUMI helps engineers take the guess work out of design with most products offering standard manufacturing times of 6 days or less and a 99.97% on-time delivery rating on all its products. In addition, MISUMI offers a helpful web site that allows engineers to download native CAD files as well as place orders for its entire product offering.
---