Simplified Slide Rails line expanded!
Product Announcement from MISUMI USA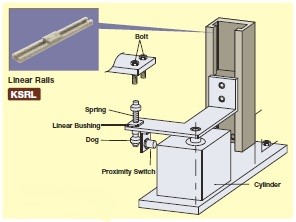 MISUMI USA has expanded of its line of Simplified Slide Rails, adding new products and sizes to existing product types. The Simplified Slide Rails are suitable for use in a host of non-precision positioning functions ? for example, platform-mounted inspection and detection devices, parts feeding devices, and linear guides used to transfer items from one process area to the next ? and they can be used effectively in both manual or automated linear motion operations.
All of MISUMI's Simplified Slide Rails are engineered and constructed for smooth operation and reliable performance. Compared with conventional high-precision positioning products, they are more compact and lighter in weight. Product offerings include standard and specialized product versions, optional features and configurable lengths, with selection depending on each user's application needs relative to load rating, length, construction material, and other requirements. Most of the Simplified Slide Rails ship within (4 to 6) four to six days.
MISUMI's expanded line of linear motion products include:
For more information about MISUMI Simplified Slide Rails and other linear motion components, please visit our online catalog at http://us.misumi-ec.com.
Catalog links:
Specific product data sheets and additional information from our extensive line of Automation Components line of products:
Linear Motion
Slide Packs, V Guides, Linear Rails
Other Linear Motion Related Components
Locating, Positioning, Jigs & Fixtures
Other Locating Related Components
Sensors, Switches
Inspection
Automotive Inspection Components
Heaters, Temperature Control
Pneumatics, Hydraulics
Filters, Regulators, Lubricators
Manual-Type Valves, Mechanical-Type Valves
Hydraulic Devices, Hydraulic Pumps
Cylinder Connecting Components
Pipe, Tubes, Hoses & Fittings
Steel Pipes, Copper Pipes, Stainless Steel Pipes
Fittings for Copper, Steel and Stainless Steel Pipes
Rotary Motion
Other Bearing Related Components
Cam Followers, Roller Followers
Rotary Power Transmission
Keyless Bushing (Fastening Fittings)
Conveyors & Material Handling
Springs, Shock Absorbers
Urethane, Rubber, Sponge, Felt
Antivibration, Soundproofing Materials, Safety Products
Wires, Chains, Metal Fittings, Small Work Pieces
Industrial Materials
Aluminum Extrusions, Pipe Frames
Aluminum Extrusion and Brackets
Accessories for Aluminum Extrusions
Extrusion Kits and Mesh Fences
Casters, Leveling Mounts, Posts, Cover Panels
Angle Plates, Gussets and Standoffs
Doors, Cabinet Hardware
Adjusting, Fastening, Magnets
Retaining Rings, Pins, Machine Keys
---