4-port USB-to-serial solutions for RS-232
Product Announcement from Moxa Inc.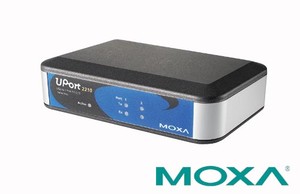 Plug the UPort 2410 into a USB port and instantly obtain four RS-232 COM ports. COM port settings are saved even when the converter is removed and plugged back in. The UPort series of USB-to-serial converters are cost-effective solutions for commercial applications.
Four RS-232 Ports with Powerful Features
The UPort 2410 is a convenient and efficient solution for connecting up to four RS-232 devices to a PC. Drivers are provided for most Windows operating systems and also Linux kernel 2.6 and above. Powerful features include Hi-Speed USB 2.0 support, 921.6 Kbps serial transmission speed, built-in 15 KV ESD protection for all serial ports, and LED indicators for easy troubleshooting. This makes the UPort 2410 especially well suited for mobile, instrumentation, point-of-sale applications, and industrial control devices.
One-Click COM Port Configuration
Fixed-base COM mode is designed for users who need to specify the initial COM port number for the UPort's serial ports. This feature could be beneficial if you are developing your own drivers for system integration tasks. Only one click is required to enable Fixed-Base COM mode and set the initial COM port number. The UPort will automatically assign additional COM port numbers in sequence starting from the initial COM number. In this way, you do not need to reconfigure the COM port numbers of the converter's serial ports again and again.
Complete Driver Support
The UPort 2410 is one of the first USB-to-serial products to be certified for Windows 2008. Moxa's comprehensive driver support includes Windows 2000, XP, 2003, Vista, 2008 (x86/x64), and Linux kernel 2.6.x (x86/x64). Save yourself the headache of programming your own drivers, and "leave the driving to us".
Features
Hi-Speed USB 2.0 for up to 480 Mbps USB transmission
921.6 Kbps maximum baudrate for super fast data transmission
Additional I/O and IRQ not needed
Built-in 15 KV ESD protection for all serial ports
Certified drivers provided for Windows 2000, XP, 2003, Vista, 2008, and Linux kernel 2.6 and above
Easy monitoring with LEDs and management software
About Moxa®:
For over twenty years, industrial systems integrators have relied on Moxa products in major device networking installations all over the world. Working with a network of certified distributors, Moxa offers world-class industrial networking products to systems integrators and value-added resellers in over 60 countries. Clients place great trust in Moxa's business and environmental practices, which are backed by ISO 9001:2000 and ISO 140001 certification. Moxa was established in 1987 and has offices in Europe, the United States, China, and Taiwan.
---