802.11a/b/g Industrial-grade WLAN Client
Product Announcement from Moxa Inc.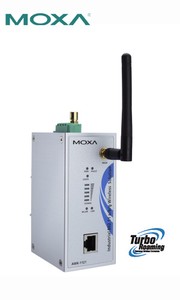 Small and Smart yet Rugged
The AWK-1121 is so small and compact that it measures up to be about the size of a 300-page paperback and weighs about 400 grams which makes it the ideal solution for applications where the space is limited. While maintaining a light weight and compact exterior, the AWK-1121 is also ruggedly designed for any harsh industrial environment. It is created to endure temperatures ranging from -40° up to 75°C and is protected by an IP 30 casing. In addition, the series may be mounted either by DIN rail or on walls, while sporting dual 12 to 48 VDC power inputs or Power-over-Ethernet (for PoE models).
Along with the rugged exterior, the AWK-1121 supports Moxa's proprietary Turbo Roaming™ providing a fast handover time of less than 100 ms, effectively eliminating the connectivity gap for latency-sensitive applications.
With this small, light, and yet rugged industrial design coupled with the smart interior design, the AWK-1121 provides the perfect solution for applications where space is limited and a robust, dedicated client is required.
Features and Benefits
IEEE 802.11a/b/g compliant
Redundant 12 to 48 VDC power inputs
100 ms client-based Turbo Roaming
PoE 802.11af compliant (PoE model Only)
Maximum security with WEP/WPA/WPA2/802.11X and powerful filters
-40 to 75°C operating temperature range (T models)
About Moxa®:
For over twenty years, industrial systems integrators have relied on Moxa products in major device networking installations all over the world. Working with a network of certified distributors, Moxa offers world-class industrial networking products to systems integrators and value-added resellers in over 60 countries. Clients place great trust in Moxa's business and environmental practices, which are backed by ISO 9001:2000 and ISO 140001 certification. Moxa was established in 1987 and has offices in Europe, the United States, China, and Taiwan.
---