A Cost Effective Multiple-WAN Wireless Computer
Product Announcement from Moxa Inc.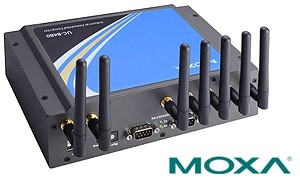 The UC-8481 is a compact size computer with multiple-WAN wireless routing function. The 2 combination allows customer effortless for system-level design and achieves cost effective solution. The UC-8481 series comes with seven connectors that allow users to connect various wireless and GPS modules, making it particularly well-suited for rolling stock and moving vehicles. It is a convenient cornerstone for customizing intelligent, cost-effective wireless communication platforms.
Benefits
Accepts multiple wireless modules for cross-operator applications and expansion
Independent, software-controlled power switches for cellular modules protects system integrity and performance
Rugged thermal design with high performance wireless modules meets or exceeds the highest EN 50155 requirements
Features
Intel XScale IXP435 533 MHz processor
512 MB DDR2 SDRAM
512 MB NAND Flash for data storage
32 MB NOR Flash to store OS
Fanless and rugged design for rolling stock applications that require EN 50155 standards
Extra Wi-Fi and cellular slots for cross-operator expansions
Wi-Fi, Cellular, and GPS modules for full communications mobility
Independent, software-based power control of cellular modules
Ready-to-run embedded Linux operating system
-25 to 70°C wide temperature models available
About Moxa®:
For over twenty years, industrial systems integrators have relied on Moxa products in major device networking installations all over the world. Working with a network of certified distributors, Moxa offers world-class industrial networking products to systems integrators and value-added resellers in over 60 countries. Clients place great trust in Moxa's business and environmental practices, which are backed by ISO 9001:2000 and ISO 140001 certification. Moxa was established in 1987 and has offices in Europe, the United States, China, and Taiwan.
---