Active Ethernet I/O for thermocouple input, DO
Product Announcement from Moxa Inc.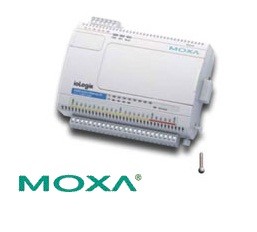 Extended sensor wiring lengths and better temperature measurement

The ioLogik E2262 is an Active Ethernet I/O product with 8 thermocouple inputs and 4 digital outputs. Extended sensor wiring lengths (up to 10 times greater than normal) are possible. For example, the usual length of a J-type sensor is 10 meters, but the ioLogik E2262 is able to support 100 meters of J-type TC wiring. Furthermore, the ioLogik E2262 has two sets of cold junction compensation and digital filtering. It is well suited for a wide range of temperature-monitoring applications like facility automation, HVAC, heating systems, and boiler systems.

Features
Supports J, K, T, E, R, S, B, and N type thermocouple and mV modes
Conversion time within 90 ms
Instant event messaging by TCP/UDP/email/SNMP trap
PC-based configuration utility and web console
Easy-to-use Click&Go™ Logic for local output control
Windows/WinCE VB/VC.NET and Linux C APIs
I/O control over Modbus/TCP and SNMP protocol
NIST-traceable calibration

See Related Products
About Moxa®:
For over twenty years, industrial systems integrators have relied on Moxa products in major device networking installations all over the world. Working with a network of certified distributors, Moxa offers world-class industrial networking products to systems integrators and value-added resellers in over 60 countries. Clients place great trust in Moxa's business and environmental practices, which are backed by ISO 9001:2000 and ISO 140001 certification. Moxa was established in 1987 and has offices in Europe, the United States, China, and Taiwan.
---