Active Ethernet I/O with Slice Form Factor
Product Announcement from Moxa Inc.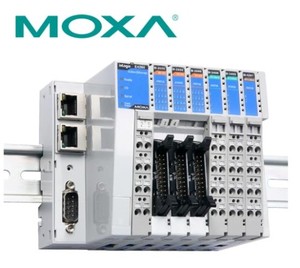 Moxa's ioLogik E4200 has a modular design that supports up to 256 DI/DO points or 64 AI/O points, for greater flexibility and expandability. It is more intelligent than previous Active Ethernet I/O models and supports 80 Click&Go rule-sets, two independent LANs for network redundancy, and serial communication to GSM modems.
Moxa's Click&Go event-based control logic interface offers local control without requiring interaction from the remote host. The intuitive, graphical interface lets administrators use simple IF-THEN-ELSE statements as rules to determine how the Active Ethernet modular I/O responds to different events. The "Internal Register" function allows the outer SCADA system to control the outputs when Click&Go logic is running. The ioLogik E4200 also supports Unicode Active Messaging with real-time stamp, including TCP, UDP, SNMP trap, e-mail, and SMS for alarm warnings.
The ioLogik E4200 is suitable for remote monitoring and alarm systems, such as those used in water and wastewater treatment systems, power monitoring systems, and more. Applications such as these need more I/O points with various I/O types for various devices, including temperature monitoring, gas detectors, and water quality detectors. All of these applications can benefit from the flexibility and expandability of the ioLogik E4200's modular design.
Features
Supports up to 256 DI/O points or 64 AI/O points via 16 I/O modules
Dual Ethernet LANs
RS-232 port
Front-end intelligence supporting 80 Click&Go rules
Unicode Active Messaging with real-time stamp, including SMS, SNMP trap with I/O status, TCP, email
Built-in web console
PC utility with automatic detection of installed modules
Library supported
See Related Products
About Moxa®:
For over twenty years, industrial systems integrators have relied on Moxa products in major device networking installations all over the world. Working with a network of certified distributors, Moxa offers world-class industrial networking products to systems integrators and value-added resellers in over 60 countries. Clients place great trust in Moxa's business and environmental practices, which are backed by ISO 9001:2000 and ISO 140001 certification. Moxa was established in 1987 and has offices in Europe, the United States, China, and Taiwan.
---