Advanced Wireless AP/ Bridge/ Client - AWK-3131
Product Announcement from Moxa Inc.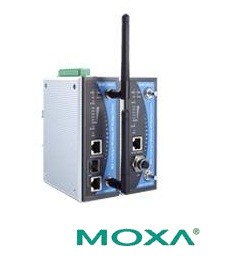 Moxa's new AWK-3131 3-in-1 industrial wireless AP/bridge/client meets the growing need for faster data transmission speeds and wider coverage by supporting IEEE 802.11n technology with a net data rate of up to 300 Mbps. The AWK-3131 combines two adjacent 20 MHz channels into a single 40 MHz channel to deliver a potent combination of greater reliability and more bandwidth. The two redundant DC power inputs increase the reliability of the power supply, and the AWK-3131 can be powered via PoE to make deployment easier. The AWK-3131 can operate on either the 2.4 or 5 GHz bands and is backwards-compatible with existing 802.11a /b/g deployments to future-proof your wireless investments.
Quick Links:
I am interested, email us so we can help...
---