Anti-vibration 4-channel Industrial Video Recoder
Product Announcement from Moxa Inc.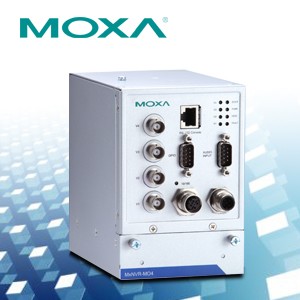 The MxNVR-MO4 supports four-channel video capture, recording, and multicast video streaming for on-vehicle surveillance monitoring. Each channel is capable of simultaneous transmission and recording of H.264 or MJPEG video streams, which allows users to preview live video while recording images. Connecting to up to four analog cameras in each train-car, the non-PC MxNVR-MO4 supports multi-video transcoding and streaming for event live-view with a maximum frame rate of 120 FPS for H.264, and 60 FPS for MJPEG. Using a two-pane display, the train conductor and driver can easily monitor live video as they review recorded events to ensure passenger and crew safety during transportation. Moxa's VPort SDK Plus, which includes CGI commands, ActiveX control, and API library, allows third-party developers to integrate customized surveillance applications with ease.
Features and Benefits
Embedded system with low power consumption; no heater and fan required
Transmits and records the H.264 and MJPEG video streams simultaneously
One SATA interface for 2.5" hard disk or SSD (solid state disk)
Meets EN 61373 vibration criteria with a built-in 2.5" inch hard disk*
Anti-vibration with built-in M12 Ethernet and power input connector, DB9 audio inputs, and DI/DO connector
EN 50155 compliant in EMC, shock, vibration and temperature criteria
DynaStream™ supported for optimized network efficiency
Support DHCP OPT66/67 for auto-configuration
Learn More About MxNVR-MO4
Download Datasheet
Other Industrial Video Recorder Products
About Moxa®:
For over twenty years, industrial systems integrators have relied on Moxa products in major device networking installations all over the world. Working with a network of certified distributors, Moxa offers world-class industrial networking products to systems integrators and value-added resellers in over 60 countries. Clients place great trust in Moxa's business and environmental practices, which are backed by ISO 9001:2000 and ISO 140001 certification. Moxa was established in 1987 and has offices in Europe, the United States, China, and Taiwan.
---