Compact and ready-to-run Embedded Computers
Product Announcement from Moxa Inc.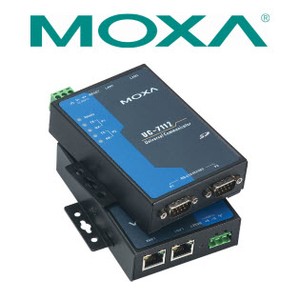 The UC-7110 and UC-7112-LX+ are compact, RISC-based communication platforms designed for embedded applications. With two RS-232/422/485 serial ports, dual 10/100 Mbps Ethernet LAN ports, and assorted software pre-installed, they provide users with a versatile, ready-to-run communication platform.
The UC-7110 and UC-7112-LX+ do not use x86-based CPUs, which use a CISC design that tends to generate a lot of heat. Instead, the UC-7110 and UC-7112-LX+ are powered by the ARM9 RISC CPU, which provides powerful computing and communication functions without generating too much heat.
Quick Links:
8 MB NOR Flash ROM and 16 MB SDRAM are built in for data storage, and an additional SD socket allows flexible storage expansion for applications.
Dual LAN ports are also built in, making the UC-7110 and UC-7112 ideal communication platforms for simple data acquisition and protocol conversion applications. Two RS-232/422/485 serial ports allow you to connect a variety of different types of serial devices.
Wide Temperature Models for Harsh Environments
The UC-7110 also comes in a wide temperature model that tolerates operating temperatures between -40° to 75°C.
Features
MOXA ART ARM9 32-bit 192 MHz processor
16 or 32 MB RAM
8 or 16 MB Flash ROM
Dual 10/100 Mbps Ethernet for network redundancy
2 software-selectable RS-232/422/485 ports
50 bps to 921.6 Kbps baudrate (non-standard baudrates supported)
SD socket for storage expansion
Built-in real-time clock (RTC) and buzzer
Pre-installed Linux Kernel 2.6 platform
-40° to 75°C wide temperature models available
About Moxa®:
For over twenty years, industrial systems integrators have relied on Moxa products in major device networking installations all over the world. Working with a network of certified distributors, Moxa offers world-class industrial networking products to systems integrators and value-added resellers in over 60 countries. Clients place great trust in Moxa's business and environmental practices, which are backed by ISO 9001:2000 and ISO 140001 certification. Moxa was established in 1987 and has offices in Europe, the United States, China, and Taiwan.
---