DIN-Rail Managed Ethernet Switch - EDS Series
Product Announcement from Moxa Inc.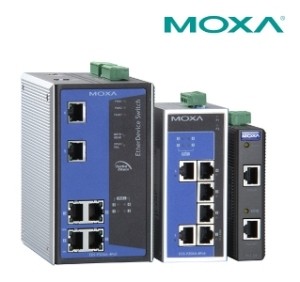 With 24/48 V power input support, the managed EDS-P506A-4PoE and unmanaged EDS-P206A-4PoE PoE Plus Ethernet switches guarantee outstanding power redundancy and ensure a higher level of operation convenience in automation control networks. These two models are tailored for different mission-critical applications: The EDS-P506A-4PoE provides advanced network management functions such as SNMPv1/v2c/v3, IEEE 1588 PTP, DHCP Option 82, Modbus/TCP, Turbo Ring, Turbo Chain, RSTP/STP, IGMP snooping, and GMRP. The compact EDS-P206A-4PoE is ideal for applications demanding space-efficiency such as roadside cabinets. The INJ-24 10/100/1000Mbps PoE injector is suitable for upgrading an existing non-PoE industrial Ethernet network to a PoE-enabled network.
Detailed Information:
Moxa's Complete and Versatile PoE Options
The addition of the EDS-P506A-4PoE and the EDS-P206A-4PoE PoE Plus industrial Ethernet switches completes Moxa's comprehensive portfolio of PoE solutions. These two products join Moxa's wide selection of PoE solutions, which includes:
EN50155-complant TN-5516-8PoE series 16-port M12 managed switches
TN-5308-4PoE series 8-port M12 unmanaged rolling stock Ethernet switches
EDS-P510 7+3G-port PoE managed Ethernet switches
EDS-P308 8-port PoE unmanaged Ethernet switches
IKS-6726-8PoE 24+2G-port modular rackmount PoE managed Ethernet switches
Apart from switches, Moxa also provides other PoE equipment such as the SPL-24 series of PoE splitters, the IMC-P101 Ethernet-to-fiber media converters, and powered devices, including IP cameras and wireless access points.
Moxa's full range of PoE solutions includes products for a variety of scenarios:
PoE and PoE Plus DIN-Rail managed and unmanaged industrial Ethernet switches
Industrial Ethernet switches with M12 connectors targeting rolling stock applications
Easy-to-scale rackmount industrial Ethernet switches supporting up to 16 PoE ports
PoE splitters, PoE injectors, and PoE media converters
PoE-enabled wireless APs with IP68-rated housing for harsh outdoor environments
IP cameras with rugged design and M12 connectors for outdoor and rolling stock usage
About Moxa®:
For over twenty years, industrial systems integrators have relied on Moxa products in major device networking installations all over the world. Working with a network of certified distributors, Moxa offers world-class industrial networking products to systems integrators and value-added resellers in over 60 countries. Clients place great trust in Moxa's business and environmental practices, which are backed by ISO 9001:2000 and ISO 140001 certification. Moxa was established in 1987 and has offices in Europe, the United States, China, and Taiwan.
---