Dual-RF Enhances Wireless Reliability & Redundancy
Product Announcement from Moxa Inc.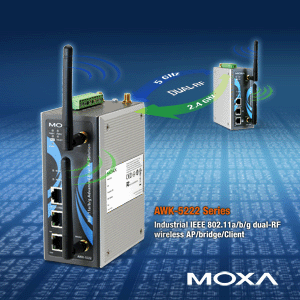 Moxa knows that many wireless users are concerned with the stability of wireless communications, which is why Moxa designed the AWK-5222 to be immune to disconnections caused by radio interference. To offer superior reliability, the AWK-5222 has two independent RF modules for establishing independent wireless connections for rapid failover. The two independent RF modules not only give you more topology choices to fit different wireless applications, but also provide you with a flexible and highly reliable solution for your industrial wireless networks. In addition, the wireless redundancy mode increases the reliability of your entire wireless network, and wireless bridge mode optimizes the WDS (Wireless Distribution System). The AWK-5222's AP Client mode can be used to provide Internet access in areas where cabling would be too expensive or impractical to install. The AWK-5222 is also compliant with IEEE 802.3af Power-over-Ethernet (PoE). Power distribution in outdoor and remote areas has never been easier. With 100 ms Turbo Roaming™, which is great for rolling stock applications, and fast BSS (Basic Service Set) transition between access points, data transmission latency is prevented and wireless network roaming is seamless and super fast. On top of it all, the AWK-5222 is equipped with dual Ethernet ports that support RSTP or Turbo Ring™ for added reliability for your entire network.
Features
Redundant dual-RF design for rapid failover
Industrial wireless AP/bridge/Client with IEEE 802.11a/b/g
100 ms Turbo Roaming™ for rapid handover during client roaming
RSTP for dual Ethernet redundancy
Versatile Operation Modes such as wireless redundancy mode, wireless bridge mode, and AP-Client mode
-40 to 75°C operating temperature range (for T models)
Dual DC power inputs and PoE for easy deployment
Long distance data transmission-over 10 km
Advanced security with WPA/WPA2 (Wi-Fi Protected Access) and 802.11i supported
About Moxa®:
For over twenty years, industrial systems integrators have relied on Moxa products in major device networking installations all over the world. Working with a network of certified distributors, Moxa offers world-class industrial networking products to systems integrators and value-added resellers in over 60 countries. Clients place great trust in Moxa's business and environmental practices, which are backed by ISO 9001:2000 and ISO 140001 certification. Moxa was established in 1987 and has offices in Europe, the United States, China, and Taiwan.
You need Flash player 8+ and JavaScript enabled to view the Dual-RF Enhances Wireless Reliability & Redundancy video.
Get the Latest Flash player.
---