Embedded device server - MiiNPort E2 Series
Product Announcement from Moxa Inc.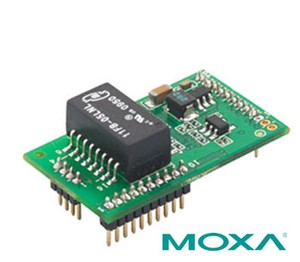 Moxa's MiiNePort E2 series embedded device servers are designed for manufacturers who want to add sophisticated network connectivity to their serial devices with minimal integration effort. The MiiNePort E2 is empowered by the MiiNe, Moxa's second generation SoC, which supports 10/100 Mbps Ethernet, up to 921.6 Kbps serial baudrate, and has a wide and versatile selection of ready-to-use operation modes. The MiiNePort E2 has the lowest power consumption compared to similar products. By using Moxa's innovative NetEZ technology, the MiiNePort E2 can be used to convert any device with a standard serial interface to an Ethernet enabled device in no time. In addition, the MiiNePort E2 is the smallest embedded device server without an RJ45 connector, making it easy to fit into virtually any existing serial device.
The MiiNe-Moxa's 2nd Generation SoC
The MiiNe was created to provide manufacturers with a competitive embedded serial-to-Ethernet solution. The MiiNePort E2, which uses the MiiNe for its SoC, is one of the world's tiniest embedded device servers, and has the lowest power consumption of any similar product. The MiiNe has the following features:
Designed for serial-to-Ethernet applications
Uses an ARM core
Uses Moxa's proprietary advanced UART technology
2 MB Flash and 4 MB SDRAM built-in memory
Features
Smallest embedded device server on the market-only 29 x 17 x 12.6 mm
Extremely low power consumption-only 140 mA @ 3.3 VDC or 92 mA @ 5 VDC
Uses the MiiNe, Moxa's second generation SoC
NetEZ technology makes integration incredibly easy
Versatile choice of operation modes: Real COM, RFC2217, TCP,and UDP
About Moxa®
For over twenty years, industrial systems integrators have relied on Moxa products in major device networking installations all over the world. Working with a network of certified distributors, Moxa offers world-class industrial networking products to systems integrators and value-added resellers in over 60 countries. Clients place great trust in Moxa's business and environmental practices, which are backed by ISO 9001:2000 and ISO 140001 certification. Moxa was established in 1987 and has offices in Europe, the United States, China, and Taiwan.
---