Faster Roaming with MOXA's Controllers - WAC 1001
Product Announcement from Moxa Inc.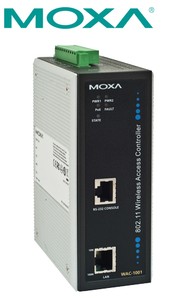 The WAC-1001 wireless controller, generally located at the on-site cabinet or the control center, shrinks handover time by reducing the time spent on searching for APs, re-association, and re-authentication to a minimum. The WAC-1001 provides efficient, centralized management and control by allowing clients to communicate with multiple APs and achieve a 50 ms roaming time. This new technology improves hand-over determinism to enable smoother data transmissions for a variety of mobile applications, and is especially well suited for train-to-ground communications.
Video: Comparison between 50 ms and 500 ms wireless roaming
This video demonstrates how wireless (WiFi) data connections are affected when roaming between access points, first with 500 ms handover times, then with 50 ms handover times. With 50 ms roaming, the wireless connection is seamless and uninterrupted.
• Detailed WAC 1001 Information
• Download Datasheet
• Other Industrial Wireless Product
Features and Benefits
• Power input by redundant 24 VDC power inputs
• Less-than-50ms Turbo Roaming for seamless wireless connection
• IEEE802.11i-compliant Wireless security
• DIN-Rail or wall mounting ability for onsite installation
• IP30 protected high-strength metal housing
• -40 to 75°C operating temperature range (-T model)
Maximum Availability
• Less-than-50ms Turbo Roaming
• Configuration back-up
• Dual redundant DC power inputs
Advanced Security
• IEEE802.1X/RADIUS supported
• WPA/WPA2/802.11i supported
• Integrated DI/DO for on-site monitoring and warnings
About Moxa®:
For over twenty years, industrial systems integrators have relied on Moxa products in major device networking installations all over the world. Working with a network of certified distributors, Moxa offers world-class industrial networking products to systems integrators and value-added resellers in over 60 countries. Clients place great trust in Moxa's business and environmental practices, which are backed by ISO 9001:2000 and ISO 140001 certification. Moxa was established in 1987 and has offices in Europe, the United States, China, and Taiwan.
---