IEC 61850-3 Ethernet Switches - PT 7828
Product Announcement from Moxa Inc.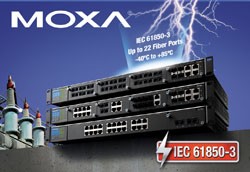 Overall Reliability and with Zero Packet Loss
(Tested by KEMA)
The EMI stress in high-voltage substations may cause errors or equipment damage in electronic communications. This is not a problem because Moxa's entire line of PowerTrans Ethernet switches are IEC 61850-3 and IEEE1613 certified; the tests were conducted by KEMA, a well respected testing laboratory in the energy and utility markets. Moxa's PowerTrans series switches are designed to withstand all of the EMI type tests required by IEC 61850-3 without experiencing any communications loss. Other tests, including GOOSE messaging, EMC tests, extreme temperature tests, and mechanical tests for vibration and shock resistance were also conducted to verify the overall durability of the PowerTrans series.
Maximum Availability with Ethernet Redundancy and Dual Isolated Power Inputs
Moxa's PowerTrans switches feature the highest level of reliability thanks to Gigabit Turbo Ring™ and RSTP/STP (IEEE802.1W/D) technology to offer fast network fault recovery (< 20 ms). Maximum uptime is ensured with the switches integrated dual isolated redundant power supplies for 24/48 VDC, or 110/220 VDC/VAC to offer you maximum recoverability.
Full Gigabit Performance to Optimizes Network Backbone
Moxa's PT-G7509 full Gigabit Ethernet switch is well suited for high bandwidth applications found in substation automation. The PT-G7509 offers maximum performance and real-time video, voice, and data transmission via a highly flexible deployment of Gigabit ports.
Layer 3 Routing for Large-scale Substation Networks
Layer 3 routing improves large-scale substation network performance. Moxa's PT-7828 layer 3 Ethernet switches are capable of dividing a large network into hierarchical subnets to allow smooth traffic flow and network efficiency.
Features
Zero packet loss
IEEE 1588 PTP enabled
Turbo Ring™ and RSTP/STP for Ethernet redundancy (< 20 ms)
Isolated redundant power inputs with 24/48 VDC or 110/220 VDC/VAC power supply range
-40 to 85°C operating temperature range
IEC 61850-3, IEEE 1613 compliant (KEMA tested)
Flexible, modular configuration with up to 28 fiber optic ports (24 fast Ethernet and 4 Gigabit ports) for long-haul transmission and scalable Gigabit bandwidth
About Moxa®:
For over twenty years, industrial systems integrators have relied on Moxa products in major device networking installations all over the world. Working with a network of certified distributors, Moxa offers world-class industrial networking products to systems integrators and value-added resellers in over 60 countries. Clients place great trust in Moxa's business and environmental practices, which are backed by ISO 9001:2000 and ISO 140001 certification. Moxa was established in 1987 and has offices in Europe, the United States, China, and Taiwan.
---