IEC 61850-3 IEEE 1588v2 Modular Rackmount Switches
Product Announcement from Moxa Inc.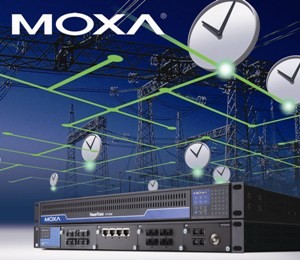 The modular design of the PowerTrans PT-7728-PTP makes network planning easy. For greater network flexibility, the PT provides up to 4 Gigabit ports, 24 Fast Ethernet ports, and up to 14 IEEE 1588 Fast Ethernet ports. These features, along with a choice of either front or rear wiring, make the PT-7728-PTP well-suited for a variety of industrial applications.
Moxa's PowerTrans PT-7728-PTP switches are verifiably reliable and efficient; a recent 500 KV IEC 61850-compliant smart substation project in Suzhou, China further demonstrates this.
Detailed product information is available on Moxa's corporate website at:
http://www.moxa.com/product/PT-7728-PTP.htm.
Features
IEEE 1588 PTP v2 (Precision Time Protocol) with hardware time stamping for precise time synchronization of networks
Supports IEEE 1588 Boundary Clock and Transparent Clock
IEC 61850-3 and IEEE 1613 compliant
Supports both types of Transparent Clock modes: End-to-End (1-step & 2-step) and Peer-to-Peer (2-step)
High precision time accuracy (under 1 μs)
-40 to 85°C operating temperature range
--> Learn more about Moxa products
--> I have a project that I would like to discuss
---