Industrial VPN Secure Router
Product Announcement from Moxa Inc.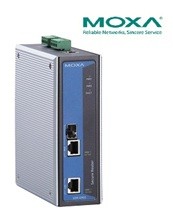 Moxa's EDR-G902 series combines VPN router, firewall, and NAT functionality to protect remote industrial networks from malevolent attacks or unauthorized access over the Internet or an intranet. To create and maintain a secure networking environment, the EDR-G902 series supports 10 IPSec VPN tunnels and full VPN IPSec Server / Client mode function. Whether it's a process control system for manufacturing plants or a SCADA system for utility automation, the EDR-G902 series secure router has the feature set to provide secure access. With enhanced security functions, an easy-to-use configuration interface, and rugged design, the EDR-G902 series excels as a cyber security solution for water pumping, oil and gas, and water treatment systems.

Features and Benefits
Robustness and compact design for harsh environments
Firewall/NAT/VPN/Router all-in-one
High performance Gigabit copper/fiber combo port
Firewall with Quick Automation Profile for Fieldbus protocols
Network address translation (N-to-1, 1-to-1, and port forwarding)
VPN security with IPSec, L2TP, and PPTP functions
Intelligent PolicyCheck and SettingCheck tools
-40 to 75°C operating temperature range (T model)
NERC CIP compliance
About Moxa®:
For over twenty years, industrial systems integrators have relied on Moxa products in major device networking installations all over the world. Working with a network of certified distributors, Moxa offers world-class industrial networking products to systems integrators and value-added resellers in over 60 countries. Clients place great trust in Moxa's business and environmental practices, which are backed by ISO 9001:2000 and ISO 140001 certification. Moxa was established in 1987 and has offices in Europe, the United States, China, and Taiwan.
---