Micro Controller - ioLogik W5340-HSDPA
Product Announcement from Moxa Inc.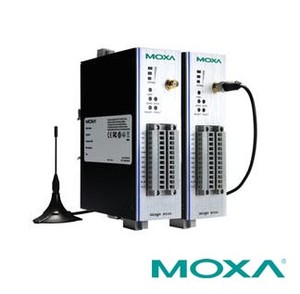 Cutting-edge 3G Wide Temperature RTU for Remote Monitoring Applications
The ioLogik W5340-HSDPA is a cellular RTU controller utilizing HSDPA communication technology for remote monitoring applications.
With support for the advanced High Speed Downlink Packet Access (HSDPA) technology, a so-called 3G or 3.5G protocol, the W5340-HSDPA reduces the response time for I/O status acquisition and control communications. The increased performance also provides enough bandwidth to perform data logging and email alarms. The ioLogik W5340-HSDPA is equipped with a 3G interface that supports both tri-band HSDPA/UMTS and quad-band GSM/GPRS/EDGE functionality, and features 4 AIs, 8 DI/Os, 2 relays, an Ethernet RJ45 port, a 3-in-1 serial port, and an SD storage socket. This rich feature set is also available in a rugged wide-temperature W5340-HSDPA-T model with a wide operating temperature range of -20 to 70°C for deployment in harsh environments, such as facilities without air-conditioning or roadside cabinets.
With the ioLogik W5340-HSDPA, you can define a cellular connection strategy, including Always-On and Wake-On-Demand, to optimize data transmission rates for different applications.
Features
Universal tri-band UMTS/HSDPA 850/1900/2100 MHz with IPSec/ VPN support
Definable cellular connection strategy to optimize data transmission
Intuitive menu driven front-end intelligence
Flexible, Unicode alarm system supporting SMS, email, SNMP Trap, TCP, UDP
One RS-232/422/485 serial port built in to connect with field serial devices
Backup and sustainable data logging function
Seamless SCADA connectivity by Active OPC technology
-20 to 70°C operating temperature range (T model)
About Moxa®:
For over twenty years, industrial systems integrators have relied on Moxa products in major device networking installations all over the world. Working with a network of certified distributors, Moxa offers world-class industrial networking products to systems integrators and value-added resellers in over 60 countries. Clients place great trust in Moxa's business and environmental practices, which are backed by ISO 9001:2000 and ISO 140001 certification. Moxa was established in 1987 and has offices in Europe, the United States, China, and Taiwan.

Play Micro Controller - ioLogik W5340-HSDPA Video on YouTube
---