MiiNePort E2 software development kit
Product Announcement from Moxa Inc.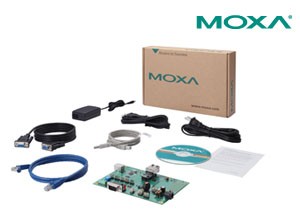 MiiNePort E2-SDK is a powerful and versatile software suite for proprietary firmware development on the MiiNePort E2. To expedite time-to-market, the MiiNePort E2-SDK provides comprehensive tools for development, testing, and mass-production.
The software development kit includes:
MiiNePort-IDE - integrated platform for development of serial-to- Ethernet firmware.
PComm Lite - software application for testing serial and TCP/IP communication/transmission.
Search Utility - search-and-update firmware utility for mass-production of modules and serial devices through simultaneous multiple-unit configurations.
Features and Benefits
Eclipse-based integrated software development tool
Source level debugger
Various serial-to-Ethernet sample codes
Mass production tool for easy firmware upload
Support RealCOM mode operation functions
About Moxa®:
For over twenty years, industrial systems integrators have relied on Moxa products in major device networking installations all over the world. Working with a network of certified distributors, Moxa offers world-class industrial networking products to systems integrators and value-added resellers in over 60 countries. Clients place great trust in Moxa's business and environmental practices, which are backed by ISO 9001:2000 and ISO 140001 certification. Moxa was established in 1987 and has offices in Europe, the United States, China, and Taiwan.
---