RISC-based Embedded Computers - IA3341 Series
Product Announcement from Moxa Inc.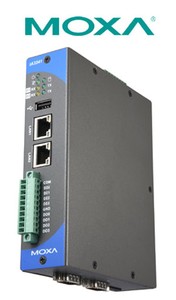 The IA3341, which is designed for solar power and environmental monitoring applications, is based on the MOXA ART ARM9 industrial processor, and features 2 RS-232/422/485 serial ports, dual LANs, 4 digital input channels, and 4 digital output channels. In addition, the IA3341 computer has 2 analog input channels and 2 thermocouple channels, making it the ideal solution for a variety of industrial applications.
By supporting multiple interfaces, the IA3341 can connect to different types of devices, making it particularly well-suited for solar power applications. Meters, sensors, and other devices can all connect easily to the IA3341, and with its powerful computing platform, the IA3341 can be used as a front-end controller to perform industrial tasks, such as data acquisition, data computing, protocol conversion, and data analysis.
The industrial-grade design of the IA3341 provides a robust, reliable computer that can fit any industrial environment, and the open source Linux platform gives programmers a convenient tool for developing sophisticated, bug-free application software at a lower cost.
As an added plus, the IA3341 offers a Modbus TCP client library in C for Windows programmers. The library helps users to easily acquire AI and thermocouple data. This feature can efficiently accelerate remote device monitoring and data acquisition at a lower cost.
Features
Moxa ART 32-bit ARM 9 Industrial Processor
64 MB RAM, 16 MB Flash onboard
2 software selectable RS-232/422/485 serial ports
50 bps to 921.6 Kbps serial speed, supporting non-standard baudrates
4 DIs and 4 DOs with 3 KV digital isolation protection
2 AIs and 2 thermocouple inputs; sensor types J, K, T, E, R, S, B, N
Dual 10/100 Mbps Ethernet ports for network redundancy
SD socket for storage expansion
USB 2.0 host
Supports Modbus TCP server to provide AI and thermocouple data
Provides TCP client library in C for Windows platform
Ready-to-run Linux Kernel 2.6 platform
DIN-Rail and wall mount installation
Robust, fanless design
About Moxa®:
For over twenty years, industrial systems integrators have relied on Moxa products in major device networking installations all over the world. Working with a network of certified distributors, Moxa offers world-class industrial networking products to systems integrators and value-added resellers in over 60 countries. Clients place great trust in Moxa's business and environmental practices, which are backed by ISO 9001:2000 and ISO 140001 certification. Moxa was established in 1987 and has offices in Europe, the United States, China, and Taiwan.
---