RISC-based Embedded Computers with GSM/GPRS
Product Announcement from Moxa Inc.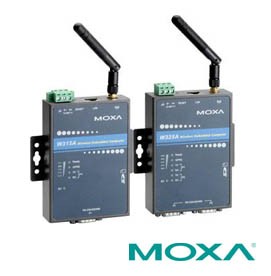 The W315A and W325A are embedded Linux computers that feature one or two software selectable RS-232/422/485 ports, one Ethernet port, and quad-band GSM/GPRS 850/900/1800/1900 MHz for cellular communications. Both the W315A and W325A come with an SD socket for external storage expansion.
The W315A and W325A computers' Linux OS runs on the MOXA ART 32-bit ARM9 processor, which provides a powerful and reliable platform for harsh, industrial environments.
The W315A and W325A are upgrades of the W315 and W325, and offer two features that are not offered by the W315 and W325:
1. Users can execute commands while GPRS is connected
2. Application program development is much easier using the Rcore package
Cellular Solutions for Long-range Communication
? Quad Band GSM/GPRS/EDGE Service
When used with the embedded GSM/ GPRS 900/1800/850/1900 MHz module, the W315A and W325A computers provide long-range communication that is suitable for industrial applications where wired and wireless LAN services are impossible or extremely costly.
? Stable and Reliable Wireless Communication
Support of GPRS multi-slot Class 10 and GPRS mobile station Class B standards allows these wireless computers to offer quick and reliable wireless communication for any industrial M2M application.
Rcore Community
Moxa has launched a new learning and sharing platform, the Rcore Community, to provide our partners with free and easy access to software and technical knowledge about embedded systems. This interactive platform provides a broad knowledge bank and valuable technical resources to assist system integrators and software developers in implementing proprietary solutions. Rcore Community members can download embedded software information and documents for free, including Rcore sample code, MDM tools, and OS documents.Learn More About Rcore Community...
Features and Benefits
MOXA ART ARM9 32-bit 192 MHz processor
32 MB RAM, and 16 MB flash disk onboard
Built-in quad band GSM/GPRS 850/900/1800/1900 MHz
GPRS Class 10, coding scheme from CS1 to CS4 supported
1 or 2 software-selectable RS-232/422/485 serial ports
10/100 Mbps Ethernet for network redundancy
Designed to withstand 5 g's of continuous vibration and 50-g shocks
SD slot for storage expansion
Ready-to-run Linux Kernel 2.6 platform
DIN-rail or wall-mount installation
Robust, fanless design
About Moxa®:
For over twenty years, industrial systems integrators have relied on Moxa products in major device networking installations all over the world. Working with a network of certified distributors, Moxa offers world-class industrial networking products to systems integrators and value-added resellers in over 60 countries. Clients place great trust in Moxa's business and environmental practices, which are backed by ISO 9001:2000 and ISO 140001 certification. Moxa was established in 1987 and has offices in Europe, the United States, China, and Taiwan.
---