Rugged Modular RTU Controller
Product Announcement from Moxa Inc.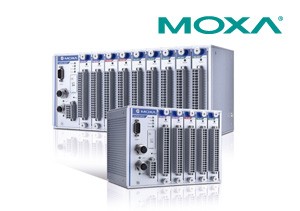 The ioPAC 8020 is a modular RTU controller with 5 or 9 slots built in for front-end data acquisition and control. It is equipped with a powerful processor and supports a variety of interfaces. The two embedded Ethernet switch ports allow system engineers to easily build a control network with open standards and daisy-chain connectivity. The ioPAC 8020 also supports power redundancy to ensure non-stop data transmission to the controller and uninterrupted communications management on the control network. Along with daisy-chain connectivity and built-in power redundancy, this rugged RTU controller delivers higher reliability, availability, and safety compared to other rugged platforms on the market.
Features and Benefits
Compliant with EN 50121-3-2, EN 50121-4, and essential sections of EN 50155
Supports C/C++ programming languages
2-port Ethernet switch for daisy-chain topologies with by-pass function
Modular I/O for versatility, flexibility, and scalability
Rugged and compact design for harsh environments
Wide operating temperature: -40 to 75°C (-40 to 167°F)
3-in-1 RS-232/422/485 serial port
Up to 32 GB SDHC data logging function
About Moxa®:
For over twenty years, industrial systems integrators have relied on Moxa products in major device networking installations all over the world. Working with a network of certified distributors, Moxa offers world-class industrial networking products to systems integrators and value-added resellers in over 60 countries. Clients place great trust in Moxa's business and environmental practices, which are backed by ISO 9001:2000 and ISO 140001 certification. Moxa was established in 1987 and has offices in Europe, the United States, China, and Taiwan.
---