Secure, High-speed Industrial VPN/Firewall Routers
Product Announcement from Moxa Inc.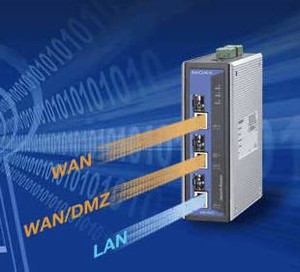 Moxa's EDR-G903 series, the leading Gigabit performance Firewall/VPN secure router, is designed to defend industrial networks. The EDR-G903 protects sensitive process control networks and mission-critical industrial assets by forming a trusted intranet environment. Moxa's EDR-G903 series supports 3 combo Gigabit ports with built-in RJ45 ports and SFP slots for connecting to a WAN, LAN, or DMZ (Demilitarized Zone) with rapid transfer bandwidth. The dual WAN feature establishes a reliable Internet connection backup and provides a secondary option for load sharing between two Internet service providers. A wide operating temperature range of -40 to 75ºC and smart firewall functions, such as Quick Automation Profile for enabling common Fieldbus protocols, make the EDR-G903 well-suited for harsh, industrial applications.
Features and Benefits
Router/Firewall/VPN all-in-one
High performance Gigabit copper/fiber combo port
WAN redundancy function with 2 WAN interfaces and 1 LAN interface
Firewall with Quick Automation Profile for Fieldbus protocols
Network address translation (N-to-1, 1-to-1, and port forwarding)
Intelligent PolicyCheck and SettingCheck tools
-40 to 75°C operating temperature (T models)
NERC CIP compliance
--> Learn more about Moxa products
--> I have a project that I would like to discuss
---