The World's First -40 to 75°C Rugged IP Cameras
Product Announcement from Moxa Inc.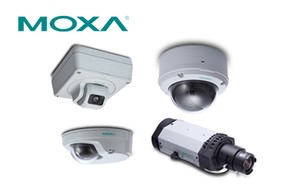 To empower security systems to continuously capture video under extreme weather conditions, Moxa introduces the world's first extreme weather IP cameras, which delivers 720P HD video streams in extreme temperatures ranging from -40 to 75? with no fan or heater required.
The World's First Fanless Wide Operating Temperature Range IP Cameras
Moxa's IP cameras deliver unparalleled reliability thanks to their exceptional tolerance of extreme temperatures. The VPort 36 can run comfortably in extreme temperatures ranging from -40 to 75°C without using any fans or heaters. These industrial-grade IP cameras capture brilliant HD images and deliver reliable video streaming in any environment, from snowy mountains to scorching deserts and everything in between. This ruggedness allows these VPort cameras to excel in oil and gas, rolling stock, and Intelligent Transportation System (ITS) applications.
H.264 HD Performance
Moxa's IP cameras provide best-in-class image quality with advanced image enhancement functions. With 720P HD resolution, Moxa's IP camera use 3D DNR/ DNR(digital noise reduction), WDR (wide dynamic range) and BLC (back light compensation) technology to reduce noise and motion blur, overcome poor lighting conditions, and display images in a wide dynamic range of dark to light.
Industrial-grade Environmental Protection
IP cameras in industrial applications also need physical protection against the elements. Moxa's IP Cameras are IP66-rated and possess Level 3 high EMI/EMC protection, for consistent performance in rainy, dusty, or high EMI environments. For protection against vandalism and tampering, the IP camera enclosure is also IK-10 (EN 62262) rated, the highest level of vandal resistance for outdoor applications.
Industry Certified Reliability
Moxa's IP cameras meet the strictest industry standards. These rugged IP cameras comply with the EN 50121, EN 55022, and NEMA TS2 certifications, which ensure reliable performance when exposed to extreme shock/vibration, high levels of surge/EMI, and explosive environments.
Moxa's Rugged IP Camera Solutions
Rugged HD Day-and-Night Box-type H.264 IP Camera
IP 66 Day-and-Night Vandal-proof Fixed Dome-type IP Camera
EN50155 Compliant, Hight Quality CCD Image, Compact IP Camera
Learn more about Moxa's rugged IP cameras
About Moxa®:
For over twenty years, industrial systems integrators have relied on Moxa products in major device networking installations all over the world. Working with a network of certified distributors, Moxa offers world-class industrial networking products to systems integrators and value-added resellers in over 60 countries. Clients place great trust in Moxa's business and environmental practices, which are backed by ISO 9001:2000 and ISO 140001 certification. Moxa was established in 1987 and has offices in Europe, the United States, China, and Taiwan.
---