USB-IF-certified 4 and 7-port USB 2.0 hubs
Product Announcement from Moxa Inc.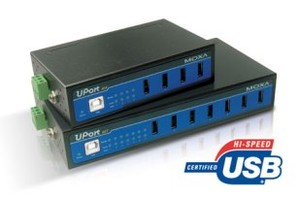 Externally powered USB hubs are the only way to guarantee the broadest compatibility with USB devices. The UPort™ 404 and UPort™ 407 are industrial-grade USB 2.0 hubs that expand 1 USB port into 4 and 7 USB ports, respectively. The hubs are designed to provide true USB 2.0 Hi-Speed 480 Mbps data transmission through each port, even for heavy-load applications. USB-IF certified and fully compliant with the USB Plug & Play specification, the UPort™ 404 and UPort™ 407 provide a full 500 mA of power per port to ensure that your USB devices will function properly. Support for 12-40 VDC power also makes these hubs ideal for mobile applications.
World's first industrial-grade USB hubs with USB-IF certification
To assure users of the most reliable USB connectivity, Moxa has attained USB-IF (USB Implementers Forum) certification for the UPort 400 series. USB-IF verifies that strict electrical requirements are met for the USB 2.0 specification. Certification shows that the UPort 404 and UPort 407 support up to 480 Mbps USB 2.0 transmission, are fully compliant with USB interoperability requirements, provide sufficient power to attached devices, and successfully transition to high-speed operation from suspend mode.

Built-in ESD level 4 protection
Electrostatic discharge (ESD) can be severe enough to involve more than one thousand volts of ESD with a high rise time (dv/dt) breaking through the junction layer of protective devices. The UPort 404 and 407 protect against this kind of damage through built-in ESD Level 4 (contact 8 KV, air 15 KV) protection.

Convenient power inputs
The UPort 404 and UPort 407 support both a power terminal block and power jack for ease of use and greater flexibility. Users can connect the terminal block directly to a DC power source, or use the power jack to connect to an AC circuit through an adaptor. The UPort 404 supports external power and bus power supplies so no power adaptor is required. Bus power can also be used to connect low power devices.
Features
Hi-Speed USB 2.0 for up to 480 Mbps USB transmission
USB-IF certification
Dual power supply (power jack and terminal block)
15 KV ESD Level 4 protection for all USB ports
Rugged metal housing
DIN-rail and wall mountable
Comprehensive diagnostic LEDs
Bus power or external power options (UPort 404)
About Moxa®
For over twenty years, industrial systems integrators have relied on Moxa products in major device networking installations all over the world. Working with a network of certified distributors, Moxa offers world-class industrial networking products to systems integrators and value-added resellers in over 60 countries. Clients place great trust in Moxa's business and environmental practices, which are backed by ISO 9001:2000 and ISO 140001 certification. Moxa was established in 1987 and has offices in Europe, the United States, China, and Taiwan.
---