Core 2 Duo EN50155 Certified Computer-V2616
Product Announcement from Moxa Inc.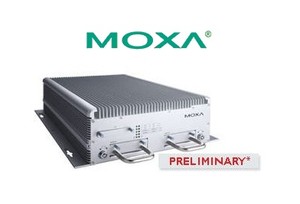 The V2616 Series EN 50155 certified embedded computers are based on the Intel Core 2 Duo SP9300 x86 processor and feature 2 RS-232/422/485 serial ports, dual LAN ports, and 3 USB 2.0 hosts. In addition, the V2616 computers provide VGA and DVI-D outputs and their EN 50155 certification makes them robust enough for railway and industrial applications.
In addition, the CompactFlash socket and the internal SATA II storage tray provide the V2616 computers with the reliability needed for industrial applications that require data buffering and storage expansion. Most importantly, the V2616 computers come with 2 removable slots for inserting additional storage media, such as hard disks or SSD drives.
The V2616 series come pre-installed with Linux or Windows Embedded Standard 2009 to provide programmers with a familiar environment in which to develop sophisticated, bug-free application software at a low cost.
---