PPL and PFU Series Visible Light Polarizers
Product Announcement from MOXTEK, Inc.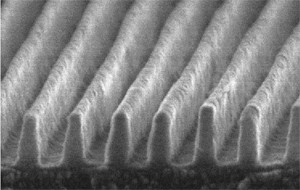 ProFlux® polarizers are designed using Moxtek® Nanowire® Technology to control light and image polarization even in high energy and high temperature applications. Made from highly durable materials, ProFlux provides pure polarization that gives high contrast and a bright image for the life of the projector or instrument.
The Visible Light Series wire-grid polarizes are the standard inorganic polarizer for the visible wavelengths. Reliability testing has shown no degradation after 5000 hours at 200°C. You can be confident in exceptional high performance and durability anywhere in the application design.
Two PFU polarizer types have been designed for the visible wavelengths with your application needs in mind, one polarizer provides the Ultra Contrast and the others Ultra Transmission.
The Ultra Contrast polarizer is for applications that need exceedingly high contrast ratios in the visible wavelengths, while the Ultra Transmission polarizer is for applications where a higher level of transmission is needed with contrast still playing a major part for the design of the application.
Birefringent properties polarize the light. For the best efficiency, these polarizers work best with the p-plane in transmission and the s-plane reflecting off of the polarizer at Normal Incidence and can be used as both pre-polarizers and analyzers.
---