CTM 360a Labeler for Tubes & Cylinders
Product Announcement from MPI Label Systems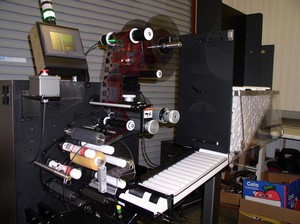 The 360a Tube Labeler is a self-contained unit for applying pressure sensitive labels to various sizes of tubes/cylinders often used in the cosmetic, health, automotive, and household industries.
The unit has an infeed hopper that product can be loaded into. Tubes are released from the hopper down a chute and are inserted over a product positioning mandrel.
As the cylinders reach the infeed area an air blast will position each empty product cylinder onto a mandrel that will support each cylinder during the labeling cycle. The mandrels wheel will index up to the labeling station where a pneumatic cylinder will push in from the side to ensure that the cylinder to be labeled stays in place on the mandrel while the label is spin wrap applied. After labeling, each mandrel will eject cylinders onto the eject chute via an air blast. Labeled cylinders can then be manually packaged by the end user.
Operating speeds will be adjustable to 50 products/minute, depending on tube diameter and length.
Labels are to be supplied on a liner web with a minimum label gap of 1/8". The applicator will accept and dispense labels from rolls up to 12" O.D. Label accuracy is mostly dependent on product handling but the label stop at the peel edge will be within +/- 1/32" when using labels constructed with a liner that does not stretch.
Tube Labeling System Includes:
Infeed Hopper Assembly
- Designed to feed products down a chute and inserted over the product mandrels for labeling

- Power driven rotating cam roller preventing multiple feeds/jams
- Anodized aluminum construction
- Adjustable to accommodate similar sizes of products
- Mounted and tested with tube labeling system
Stand alone cylinder labeling system
- Anodized aluminum and stainless steel product infeed chute with escapement control to prevent multiple feeds
- Infeed length should be specified by end user
- Includes one product hub with mandrels required for one tube cylinder size
- Rubber coated drive roll to spin products during labeling
- Product outfeed will be adjustable
- 108 - 132 Volts, 10 Amps, 50 - 60 Hertz, Single-Phase
- Clean, dry air @ 90 - 100 PSI at 4 SCFM
- Operating temperature: 40 - 104 degrees F
- Humidity: 20 - 95% FH, non-condensing
Stepper driven label dispenser will be integrated into the machine construction
· Up to 5" wide label width capacity
· 12" unwind roll capacity
· Complete system will be mounted onto a common machine base supported on 4" double locking casters and leveling pads.
Control package
· Includes all pneumatic and electrical controls
· Stepper motor drives will be used on the label dispenser and rotary mandrel assemblies
· A menu based operator interface will provide an alarm readout as well as a user friendly method of changing timers and logic functions
OPTION
Interchangeable Hub
· With complete set of product mandrels for each product size
· Anodized aluminum - Lexan construction
Note: The tube labeler is not intended to be operated in an environment where flammable or explosive gasses are present. The 360a tube labeler is not to be used in direct contact with food products.
---