Variable Data Printing Services
Service Detail from MPI Label Systems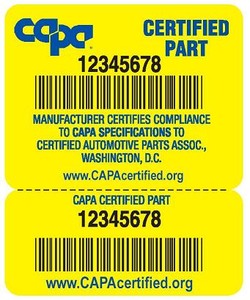 Variable printing is a process whereby images, graphics, text, and barcode numbers can be changed from one printed label to the next.
MPI is equipped with the latest technology when it comes to printing variable information for our customers. No matter what quantity, large or small, we have no hassle ordering and quick turn around.
Our experts produce labels on a wide range of material including blank or preprinted labels, placed on rolls or cut, stacked, bagged, boxed, and drop shipped.
Automotive Industry Compliance - if it looks too complicated, let us make your compliance labels. We have experience designing labels to manufacturer's specs along with consecutive numbering for in-house tracking.
Barcodes - we print both one and two dimensional barcode symbologies. We can also print sequential barcode numbers on labels.
Bulk Mailing - we print address labels from your database to meet postal regulations with the required postal barcodes.
Codes - date codes, lot codes, and security codes.
Coupons - With MPI's variable information printing, each coupon label would have the same general layout and images, but can have different serial numbers, barcodes or consecutive numbers printed. The variable printing can be printed on the front or back side of the coupon label.
Database printing - data read from your database and printed on labels designed to your specifications.
Graphics & Logos - our label software programs make it easy to incorporate your specific logo on your labels.
Laser Printing - sheeted laser printed labels for variable print or RFID labels.
Promotional Labels - when you want to draw attention to your product with a one time or ongoing promotions, we produce labels that can help you acquire more business
Property/Asset management - labels designed to keep track of your property and equipment.
Rack/Shelf Labeling - use color codes or row/isle information so you can easily scan and identify your warehouse products.
Retail Labels & Tags - product information, pricing, SKU numbers, or other pertinent information can be printed to your specifications.
RFID Encoded Labels - encoded with your specific information using HF or UHF tags. Electronic file is provided with encoded tag data for each label printed.
Scratch off promotions - for contests, games, special events, etc.
Serialized Numbers with file management - start at any number and increment or decrement by one (or any amount specified) and maintain records of the beginning and ending numbers for each order.
When you want to eliminate the cost of printers, labor, and inventory, let MPI print your labels. It's as simple as submitting your database to us. We will design and print the label format to your specifications. Once your format is approved, we can print, log serial numbers, custom package, and ship your labels
---