Expert Metallurgical Evaluation of Components
Service Detail from M+P Labs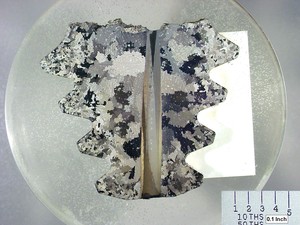 Quality and Experience
At M+P Labs, our metallurgists have thorough knowledge of materials ranging from ductile irons to superalloys. This includes all grades of steels, stainless steels, and alloys of copper, aluminum, nickel and titanium.
We also perform coating and plating evaluations. We typically characterize properties such as composition, uniformity, porosity, phase distribution, thickness and diffusion profiles. We routinely evaluate TBC, HVOF and plasma spray coatings for the aerospace and power generation industry.
M+P Labs is well versed in processes such as casting, powder metallurgy, welding, brazing, thermal spray, and heat-treatment processes.
Our expertise is often called upon to validate that raw materials or finished components meet OEM/customer performance specifications and assess the causes of failures.
Metallurgical evaluations include:
Grain size and distribution
Feature dimensional measurement
Porosity measurements
Case depth
Micro-indentation hardness
Weld/braze/solder joint evaluation
Phase segregation and identification
Inclusion content
Corrosion susceptibility
Weldability evaluations
Failure Analysis:
Our skilled metallurgists also utilize advanced analysis techniques such as Scanning Electron Microscopy (SEM) and our electron microprobe to obtain qualitative and quantitative information about the characteristics of a material or a failure. These tools are utilized to examine features such as fracture surfaces, pits, welds, and evidence of corrosion, erosion and wear. Click here for additional information about failure analysis.
Mechanical Testing:
The mechanical properties of metals are often analyzed after a failure to determine if a failed component met all of the design specifications. Tensile and hardness testing are commonly performed. For an overview of the mechanical tests available at M+P Labs, click here.
Chemical Analysis:
Various chemical analysis techniques can be applied to identify an unknown metal alloy, verify that an alloy meets specification requirements, discover the presence of contaminants and products of reactions. For additional information about the chemical analysis techniques available, click here.
· Scanning electron microscopy/electron microprobe analysis
· Specimen extraction & machining
Quality Assurance:
The rigorous quality assurance requirements mandated by these industry quality standards: ISO 17025, Nadcap (aerospace and defense industry) and 10 CFR 50 Appendix B (nuclear utility industry) are applied to each and every job we perform, regardless of whether it requires conformance to any of these accreditations. The accuracy of the results produced by our staff of highly-experienced analysts allows our clients to make critical decisions based on precise and reliable information.
Contact Information:
For additional information or to discuss your materials testing needs, please contact us at (518) 382-0082, via email at info@mandplabs.com, or visit us on the web at www.mandplabs.com.
---