Failure Analysis of Equipment and Components
Service Detail from M+P Labs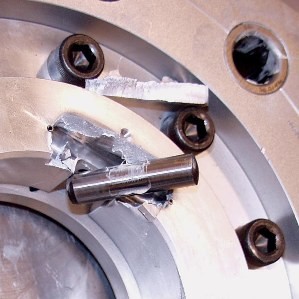 M+P Labs provides failure analysis services to determine the root causes of component and equipment failures for metallic, polymeric, ceramic, biocompatible and composite materials for industries ranging from power generation to medical devices.
M+P Labs combines a disciplined and methodical investigation approach, an understanding of materials science and engineering, a knowledge base of materials and processing techniques in specific industries, and the abilities to perform metallurgical, chemical, mechanical, thermal, electrical and microstructural analyses, to accurately identify complex failure modes in materials and components, providing a one-stop shop for failure analysis investigations.
Metallic Materials:
M+P specializes in performing failure analyses of metal components, particularly for the power generation, aerospace and medical device industries. Our senior metallurgists and materials engineers are intimately familiar with the materials, processing procedures and failure mechanisms associated with components from these industries. Fractography is performed by our metallurgists with a state-of-the-art Scanning Electron Microscope (SEM). Examples of failure analysis investigations include:
Vane cracking in an impeller assembly
Coating adhesion failure on titanium components
Staining on dental instruments
Trip failure in electrical relays in a nuclear power plant
Weld failure leading to highway bridge collapse during construction
Automotive switch failure
Cracked and discolored dishwasher heater hardware
Bolt failure in a chemical mixer assembly
Failed hip joint
Composite Materials & Components:
M+P Labs has evaluated a wide variety of components made from composite materials. Examples of failure analysis investigations conducted include:
Catheter failure
High-voltage insulation failure in electrical equipment
Rupture of high-pressure wire mesh hoses
Cracked and delaminating concrete floor
Identification of filter debris
Cause of composite delamination
Contamination:
The abilities to identify metallic, organic and inorganic materials allow M+P Labs to identify the chemical composition of nearly any material, even if a very small quantity is present. Example investigations include:
Source identification for metal shavings appearing in Styrofoam cups
Cause of dark brown clumps in powdered dough mix
Identify black specks in filled polymeric sheet material
Determine the composition of residue in bearing housing
Cleanliness evaluations
M+P Labs can quickly identify the root causes of failures to reduce down time, prevent reoccurrences, assess liability, help increase the fundamental understanding of your materials and processes and design improved products.
Additional analyses and testing capabilities available at M+P Labs include:
· Chemical & compositional characterization
· Electrical testing (insulating materials)
· Scanning electron microscopy/electron microprobe analysis
· Specimen extraction & machining
M+P Labs Quality Assurance:
The rigorous quality assurance requirements mandated by these industry quality standards: ISO 17025, Nadcap (aerospace and defense industry) and 10 CFR 50 Appendix B (nuclear utility industry) are applied to each and every job we perform, regardless of whether it requires conformance to any of these accreditations. The accuracy of the results produced by our staff of highly-experienced analysts allows our clients to make critical decisions based on precise and reliable information.
Contact Information:
For additional information or to discuss your materials testing needs, please contact us at (518) 382-0082, via email at info@mandplabs.com, or visit us on the web at www.mandplabs.com.
---