Failure Analysis of Heat Exchanger Components
Service Detail from M+P Labs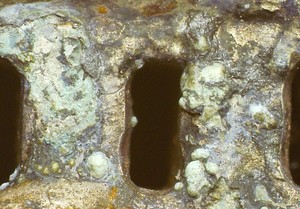 M+P Labs combines a disciplined and methodical investigation approach, an understanding of materials science and engineering, and the abilities to perform chemical, thermal, metallurgical, mechanical and microstructural analyses to accurately identify complex failure modes in materials and components.
Metallic Materials:
We specialize in performing failure analyses of metal components. Our senior metallurgists and materials engineers are intimately familiar with the materials, processing procedures and failure mechanisms associated with components utilized in heating and cooling equipment ranging from damaged heat exchanger tubes and fins to the assessment of nuts and bolts.
Example investigations include:
Debris identification
Cause of staining or discoloration
Contamination identification
Root causes for features of interest
Fractography performed with a state-of-the-art Scanning Electron Microscope (SEM)
M+P Labs can quickly identify the root causes of failures to reduce down time, prevent reoccurrences, assess liability, help increase the fundamental understanding of your materials and processes and design improved products.
Additional analyses and testing capabilities available at M+P Labs include:
· Chemical & compositional characterization
· Electrical testing (insulating materials)
· Scanning electron microscopy/electron microprobe analysis
· Specimen extraction & machining
M+P Labs Quality Assurance:
The rigorous quality assurance requirements mandated by these industry quality standards: ISO 17025, Nadcap (aerospace and defense industry) and 10 CFR 50 Appendix B (nuclear utility industry) are applied to each and every job we perform, regardless of whether it requires conformance to any of these accreditations. The accuracy of the results produced by our staff of highly-experienced analysts allows our clients to make critical decisions based on precise and reliable information.
Contact Information:
For additional information or to discuss your materials testing needs, please contact us at (518) 382-0082, via email at info@mandplabs.com, or visit us on the web at www.mandplabs.com.
---