Identify the Chemical Composition of Any Material
Service Detail from M+P Labs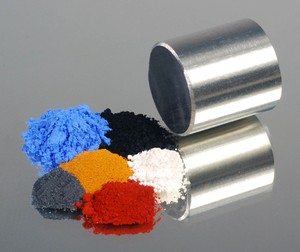 M+P Labs can identify the composition of nearly any unknown material. This includes powders, liquids, granules, films, stains, pellets, beads, discs, filter debris, fibers, shavings, components, coatings, metals, polymers, minerals, ceramics and more.
Techniques
XRD (New!)
XRD analysis provides detailed information about the crystallographic structure and physical properties of materials and thin films. Assessments may include phase identification, phase quantification, % crystallinity, crystallite size, crystal structure determination and unit cell size.
XRF (New!)
XRF analysis is used to determine the elemental composition of inorganic materials. Analyses may range from qualitative to quantitative. The XRF can be used for bulk and trace chemical analysis on solids, liquids and powders.
SEM-EDS
A Scanning Electron Microscope equipped with an Energy Dispersive X-ray Spectrometer provides information about the chemical composition, microstructure and surface topography of a material. An SEM-EDS qualitatively detects the presence of nearly every element in the periodic table of elements, from boron to uranium, on a microscopic scale. Specimens can be viewed at magnifications ranging from 10,000X - 100,000X.
Electron microprobe
An electron microprobe is an SEM-EDS that has been optimized for semi-quantitative chemical analysis. It is equipped with seven wavelength dispersive X-ray spectrometers (WDS). WDS detectors quickly differentiate between peaks for chemical elements that nearly overlap, ensuring rapid and accurate identification and quantification of the chemical elements present.
FTIR
Fourier Transform Infrared Spectroscopy analyzes the "chemical footprint" of a material. FTIR analysis detects the presence of certain types of bonds in the molecular structure of the sample. The resulting FTIR spectral pattern is typically analyzed and matched to a spectrum of a known material identified in an expansive FTIR library data base.
IC
Ion Chromatography quantifies the concentrations of halogens present in materials. IC analysis is typically utilized to determine the presence of detrimental elements and to verify compliance with safety regulations.
ICP-OES
Inductively Coupled Plasma - Optical Emission Spectroscopy can detect the quantity present of nearly every element in the periodic table. The ICP-OES compares the intensity and wavelength of light emitted from a sample to three known standards for each element, accurately quantifying the amount of each element present.
Carbon and Sulfur Analysis
Wet Chemical Analysis
Additional analyses and testing capabilities available at M+P Labs include:
· Electrical testing (insulating materials)
· Scanning electron microscopy/electron microprobe analysis
· Specimen extraction & machining
M+P Labs Quality Assurance:
The rigorous quality assurance requirements mandated by these industry quality standards: ISO 17025, Nadcap (aerospace and defense industry) and 10 CFR 50 Appendix B (nuclear utility industry) are applied to each and every job we perform, regardless of whether it requires conformance to any of these accreditations. The accuracy of the results produced by our staff of highly-experienced analysts allows our clients to make critical decisions based on precise and reliable information.
Contact Information:
For additional information or to discuss your materials testing needs, please contact us at (518) 382-0082, via email at info@mandplabs.com, or visit us on the web at www.mandplabs.com.
---