Metallographic Mounts of the Highest Quality
Service Detail from M+P Labs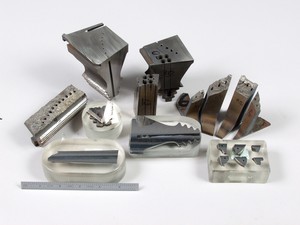 M+P Labs is highly-renowned for producing metallographic mounts of the highest quality. Metallography, in basic terms, is the art of imbedding a specimen in resin, polishing it to a mirror-like finish, then typically etching the specimen to reveal the microstructure of the materials. Specimens are prepared in this manner for analyses under optical microscopes, scanning electron microscopes, and electron microprobes. These microscopy techniques are utilized to perform metallurgical evaluation, measurement of features, material characterization, automated image analyses, contaminant identification and failure analyses. Good metallographic preparation techniques are essential to obtaining accurate analyses results.
Our specialties:
Preparing specimens consisting of very different materials. Our skilled metallographers have decades of experience polishing the most challenging specimens. The top surface of the specimen must be flat for accurate analysis. The challenge arises when a soft material is located next to a hard material. The metallographer must prepare a specimen without creating concave or convex surfaces, blending the materials at the interfaces or causing "pull out" in any of the materials.
Edge retention. Edge retention is particularly important when evaluating coatings. Accurate characterization of coatings includes thickness measurement, surface roughness, homogeneity, phase distribution, micro hardness, porosity and diffusion profile. Our metallographers have decades of experience preparing specimens for coating evaluations, particularly for the aerospace and power generation industries. M+P Labs maintains a GE S-400 Special Process Certification for performing many S-400 test codes.
Etching. Selecting the appropriate etchant to highlight the microstructure for materials is not always a simple task. Our metallographers have experience etching a wide array of materials including metals, ceramics, concrete, and meteorites. Quality is their top priority. They will not stop until they have produced an etched specimen that is properly prepared for evaluation.
Field metallography and replication services for large components or structures are also available.
Metallography reference kits are available for selected materials. These kits, which are certified and reproducible, contain standardized, pre-tested materials and may be used for audits, round robin evaluations, or training new personnel. They meet the present requirements for Nadcap audits and PRI.
Specimen preparation:
Our experienced metallographers can section hardware of nearly any size and any material. Metallographic mounts can be prepared in a range of sizes up to 8 inches in diameter.
Additional analyses and testing capabilities available at M+P Labs include:
Microstructural analyses can be performed in conjuction with chemical, thermal, mechanical, metallurgical, and electrical property evaluation capabilities to help solve your most challenging materials and processing problems or qualify products for use or sale.
· Chemical & compositional characterization
· Electrical testing (insulating materials)
· Scanning electron microscopy/electron microprobe analysis
· Specimen extraction & machining
M+P Labs Quality Assurance:
The rigorous quality assurance requirements mandated by these industry quality standards: ISO 17025, Nadcap (aerospace and defense industry) and 10 CFR 50 Appendix B (nuclear utility industry) are applied to each and every job we perform, regardless of whether it requires conformance to any of these accreditations. The accuracy of the results produced by our staff of highly-experienced analysts allows our clients to make critical decisions based on precise and reliable information.
Contact Information:
For additional information or to discuss your materials testing needs, please contact us at (518) 382-0082, via email at info@mandplabs.com, or visit us on the web at www.mandplabs.com.
---