Quality Control of Medical Device Components
Service Detail from M+P Labs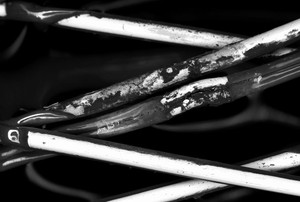 M+P Labs provides the sophisticated mix of expertise, technology, and experience required to perform material testing to ensure that quality control is maintained throughout the medical device supply chain and to identify complex failure modes in parts, products, and materials. We offer complete physical and chemical characterization capabilities and analysis of failures in metallic and non-metallic products such as nitinol wire, tubing, catheters, implants, dental and surgical instruments and bonded materials.
Through the application of chemical, thermal, metallurgical, mechanical, microstructural and electrical testing, we can assist you with the following types of analyses:
· Alloy verification
· Chemical composition identification
· Coating characterization
· Contamination
· Corrosion
· CTE of circuit board components
· Determining differences between materials
· Efficiency of cleaning processes
· Electrical resistivity of tubing
· % extractables
· Particulate identification
· Processing/treatment verification
· Residue identification
· Reverse engineering
· Staining/discoloration
We utilize state-of-the-art techniques to help you solve your most challenging material problems. These techniques include Scanning Electron Microscopy (SEM-EDS), an electron microprobe and advanced surface analysis techniques including DSIMS, ToFSIMS, XPS, XRD and 3DP. The appropriate technique(s) will provide information about:
· Chemical composition
· Distribution of composition (Element mapping)
· Features (discoloration, cracks, poor adhesion)
· Fractography
· Surface topography
· Thickness
Additional analyses and testing capabilities available at M+P Labs include:
The chemical and thermal analysis capabilities available at M+P Labs can be used in conjunction with mechanical, metallurgical, microstructural and electrical property evaluation capabilities to help solve your most challenging materials and processing problems or qualify products for use or sale.
· Chemical & compositional characterization
· Electrical testing (insulating materials)
· Scanning electron microscopy/electron microprobe analysis
· Specimen extraction & machining
M+P Labs Quality Assurance:
The rigorous quality assurance requirements mandated by these industry quality standards: ISO 17025, Nadcap (aerospace and defense industry) and 10 CFR 50 Appendix B (nuclear utility industry) are applied to each and every job we perform, regardless of whether it requires conformance to any of these accreditations. The accuracy of the results produced by our staff of highly-experienced analysts allows our clients to make critical decisions based on precise and reliable information.
Contact Information:
For additional information or to discuss your materials testing needs, please contact us at (518) 382-0082, via email at info@mandplabs.com, or visit us on the web at www.mandplabs.com.
---