Thermal Analysis of Materials
Service Detail from M+P Labs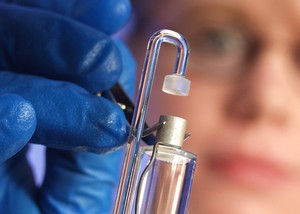 Thermal analysis techniques are used to determine melting and freezing points, glass transition temperatures, coefficients of thermal expansion, and deflection characteristics of various materials. They can also be used to determine weight loss versus temperature, percent composition of fillers, volatiles and moisture in materials, and much more.
How can thermal analysis techniques help you?
Thermal analyses can be used to determine:
How an alloy will behave at various temperatures
The degree of cure at various conditions for an epoxy, silicone or coating
The maximum temperature you can expose an adhesive to
How much a given material will expand in its operating environment (CTE)
When a composite will start to delaminate
At what temperature a material will start to deflect
The filler content of a polymeric material
M+P Labs offers the following thermal analysis techniques:
Differential scanning calorimetry (DSC) measures the difference between the amount of heat required to increase the temperature of a material to a reference material. It is measured as a function of temperature. Our stand alone DSC operates between (-150 °C) and 700 °C. It is utilized to characterize melting and freezing behavior, glass transition temperatures (Tg), percent crystallinity, the heat of fusion and specific heat capacity of materials.
Simultaneous TGA-DSC & TGA-DTA (SDT) provides simultaneous measurement of weight change (TGA) and differential heat flow (DSC) from ambient to 1500 °C. M+P Labs can characterize melting and freezing behavior, glass transition temperatures (Tg), the filler content in plastics, rubbers and coatings, solidus and liquidus temperatures in metals, braze or solder melting properties, moisture content, thermal decomposition profiles, cure reactions, oxidation behavior and other important material properties.
Thermomechanical Analyzer (TMA) is useful for measuring dimensional changes under conditions of controlled temperature, atmosphere, time and force. This instrument is capable of running experiments from (-150 °C) to 1000 °C. Force can be applied in flexure, compression or tensile modes. Materials such as metals, polymers, coatings, foams, films, and fibers can be characterized for expansion, penetration, compression, tension, and 3-point bending. M+P Labs uses TMA to measure material properties such as the coefficient of thermal expansion (CTE), glass transition temperatures (Tg), softening and melting behavior, time to delamination, multi-layer film analyses, shrinkage, flexure, compression and to generate stress/strain information for our clients.
To view a list of standard test methods we perform in our Thermal Analysis lab, please click here.
Additional analyses and testing capabilities available at M+P Labs include:
The thermal analysis capabilities available at M+P Labs can be used in conjunction with chemical, mechanical, metallurgical, microstructural and electrical property evaluation capabilities to help solve your most challenging materials and processing problems or qualify products for use or sale.
· Chemical & compositional characterization
· Electrical testing (insulating materials)
· Scanning electron microscopy/electron microprobe analysis
· Specimen extraction & machining
M+P Labs Quality Assurance:
The rigorous quality assurance requirements mandated by these industry quality standards: ISO 17025, Nadcap (aerospace and defense industry) and 10 CFR 50 Appendix B (nuclear utility industry) are applied to each and every job we perform, regardless of whether it requires conformance to any of these accreditations. The accuracy of the results produced by our staff of highly-experienced analysts allows our clients to make critical decisions based on precise and reliable information.
Contact Information:
For additional information or to discuss your materials testing needs, please contact us at (518) 382-0082, via email at info@mandplabs.com, or visit us on the web at www.mandplabs.com.
---