Custom Roll Forming metal shapes since 1965
Service Detail from MP Metal Products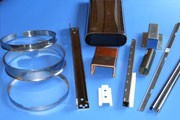 Custom Roll Formed Parts are tailor made to customer specifications. The Roll Forming process uses metal coil, strip and sheet in gauges from 0.005" up to 0.165", and widths up to 48" depending upon the complexity of the profile. Materials are typically ordered as required to meet customer delivery dates. Special requirements for finishes, physical and chemical properties, and certification can usually be accommodated.
As a coil-based process, economical production lots for custom roll forming typically begin around 5,000 lineal feet for shapes with existing tooling. Custom lengths are possible along with hole and notch patterns. This may save secondary operations. If new tooling is necessary, a suggested benchmark is at least 30,000 lineal feet annually to justify the tooling investment. What is critical to the fit, form and function of your application?
M. P. Metal Products specializes in custom roll forming. We have been a manufacturer of custom roll formed shapes since 1965. We roll form ferrous and non-ferrous metals into a variety of shapes, moldings, channels, panels, angles, trim, frames, lock seamed profiles and accessories. Design assistance is available to provide economical solutions and alternatives.
Value Added Services M. P. Metal Products also offers value added services, which include stamping, press braking, slitting, inline piercing and punching.
Markets We Serve We have 35 roll formers serving automotive, agricultural, transportation, construction, material handling, storage, medical, furniture, electrical, recreation, and other markets.
Materials, Gages, Finishes and Shapes M. P. Metal Products has experience forming a variety of metals, including stainless steel, galvanized steel, aluminized steel, aluminum, copper and pre-painted coils. Gages range from .005" to .165", and widths from 1/2" to 48" in various alloys, tempers, and finishes, in simple or complex shapes.
M. P. Metal Products Achieves ISO 9001 : 2015 Certification
M. P. Metal Products is excited to announce its certification renewal from ISO 9001:2008 to ISO 9001:2015. As a part of the ISO certification process, M. P. Metal Products engaged in a rigorous audit of its business and manufacturing processes, as well as product quality requirements. These standards improve the experience of working with M. P. Metal Products for our customers and throughout our organization with a specific effect impact on Sales, Accounting, Maintenance, Purchasing, Outsourcing, Shipping, Receiving, Production, Resource Management, Quality Management Systems and Measurement Analysis Improvement.
Additionally, as a part of the ISO certification requirements, M. P. Metal Products maintains an ISO compliant Quality Management System ensuring our customers satisfaction and strengthened performance through constant process improvement.
M. P. Metal Products is proud to offer this tremendous value to our customers as we continue to thrive in our 50+ years of business. If you have roll forming needs, you need to speak with M. P. Metal Products. We look forward to hearing from you soon.